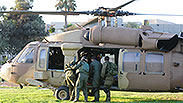 Soldiers being evacuated to Soroka during Protective Edge
Photo: Herzl Yosef
More soldiers were seriously and critically wounded during the 2014 Operation Protective Edge compared to the 2006 Second Lebanon War, but they received faster and more effective treatment that saved more lives, according to a study conducted by the Gertner Institute's Center for Trauma & Emergency Medicine Research.

Eleven percent of wounded soldiers in the Second Lebanon War were defined as seriously wounded - meaning they suffered significant injuries, putting them in immediate life threatening condition, which necessitated special medical supervision. During the war, 4.7 percent of the soldiers were defined as critically wounded, putting them in grave and immediate life threatening condition after having suffered complicated or multiple injuries.

The situation was much more serious during Operation Protective Edge: 15.5 percent of wounded were in serious condition, and 6.3 percent were in critical condition.

Despite suffering graver injuries, the average length of hospitalization for soldiers wounded in Protective Edge was much shorter - 21.8 days compared to 31.6 days for soldiers wounded in the Second Lebanon War.

"There were significant lessons learned from Lebanon, and the army adopted a faster system of evacuation from the battlefield to the hospital. This means saving lives. During the Second Lebanon War, there were wounded soldiers who had to wait in the field for evacuation, and since then soldiers are being evacuated much faster," said Prof. Kobi Peleg, the head of the National Trauma Research Center in the Gertner Institute.

Researchers found that 51.1 percent of wounded soldiers in Protective Edge were evacuated from the battlefield via helicopters, compared to 36.7 percent in 2006.

"The injuries were graver, but the treatment was better and the evacuation was faster and when put to the test - it worked," Prof. Peleg said.

Peleg presented the data last week at a conference at the Soroka Medical Center in Be'er Sheva, where 1,263 wounded received treatment during the summer war in Gaza: 777 of them soldiers and 486 civilians, with 53 seriously wounded.

Researchers also found a difference between the two wars when comparing army and civilian injuries. During the Second Lebanon War, soldiers constituted 74.3 percent of all wounded, while civilians constituted 25.7 percent. During Protective Edge, the rate of wounded soldiers jumped to 86.7 percent, with only 13.3 percent of wounded being civilians.

"The type of injuries changed during the operation," said Dr. Moti Klein, who heads the intensive care unit at Soroka. "At first, there were relatively more eye injuries and we realized soldiers were not using protective eyewear. We passed this information on to the IDF and this type of injuries stopped. Then we saw mostly head and limb injuries since the chest and stomach were properly shielded. Usually, chest and stomach injuries are lethal. The Medical Corps introduced advanced equipment to stop bleeding and worked under higher standards, and the treatment in the field significantly improved the chances of survival."

Researchers hypothesize that the higher rate of seriously and critically wounded in Operation Protective Edge is attributed to the better care they received. In the past, these wounded soldiers would have died.

Thanks to better treatment during Protective Edge, the average hospitalization time at intensive care was shorter even though the injuries were graver. During the Second Lebanon War, 13.5 percent of wounded were put in intensive care, out of which 9.8 percent were there for two days or more. During Protective Edge, 13 percent were put in intensive care, with only 7.8 percent spending two days or more there.

Another piece of data that points to improvement in care during Operation Protective Edge compared to Lebanon is the transfer of wounded soldiers to other hospitals after the initial evacuation. In 2006, 30.4 percent of wounded soldiers were transferred to other hospitals, compared to 11.2 percent in 2014, which is indicative of the fact soldiers were taken to the right hospital to begin with, which allowed them to receive better care.

However, it's important to remember the Soroka Medical Center is the closest hospital to the Gaza Strip, which means it must have increased capabilities compared to hospitals in the north, which treated wounded soldiers during the 2006 conflict.