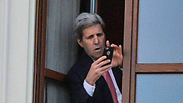 John Kerry in Lausanne
Photo: EPA
LAUSANNE - Iran and the six major world powers were exploring possible compromises aimed at breaking an impasse in nuclear negotiations on Sunday, though officials cautioned that they still had no agreement and were unable to move on several sticking points.
In a significant development in talks aimed at securing a preliminary nuclear deal, several officials said Tehran had indicated a willingness to accept fewer than 6,000 nuclear centrifuges and sending most of its enriched uranium stockpiles for storage in Russia.
Related articles:
Western powers, on the other hand, were considering the idea of allowing Iran to conduct limited, closely monitored enrichment-related work for medical purposes at an underground facility called Fordow, the officials added on condition of anonymity.
Meanwhile, Prime Minister Benjamin Netanyahu hit back over the emerging agreement, calling it worse than he had feared and insisting that the "Iran-Lausanne-Yemen axis" must be stopped.
"After the Beirut-Damascus-Baghdad axis, Iran is carrying out a pincers movement in the south as well in order to take over and conquer the entire Middle East. The Iran-Lausanne-Yemen axis is very dangerous for humanity and needs to be stopped," Netanyahu said, drawing a line between Iran's nuclear ambitions and the actions of the Iranian-allied Houthi rebels in Yemen.
Meanwhile, US Secretary of State John Kerry cancelled plans to fly to Boston for a ceremony in honor of his late friend Edward Kennedy in order to stay in Switzerland, where nuclear talks between Iran and six world powers are ongoing.
Officials close to the talks also confirmed the French and German foreign ministers, Laurent Fabius and Frank-Walter Steinmeier, had cancelled a planned joint trip to Kazakhstan.
"We're hopeful, but there is still a lot of work to be done," Fabius told reporters on Sunday.