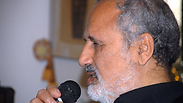 Erez Biton
Photo: Rachel Biton
Poet Erez Biton was awarded the Israel Prize on Sunday, becoming the first poet of Mizrahi descent to win the prize for literature and poetry.

Cinematographer David Gurfinkel received the Israel Prize for cinema.

The Algerian-born Biton, 73, has been blind since childhood and grew up in Lod. The prize committee headed by literary scholar Avner Holzman said Biton's collections of poetry, which include "Moroccan Gift" (1976), "Book of Mint" (1979), "Bird between Continents" (1989), and "Timbisert, a Moroccan Bird" (2009), are "masterpieces of human experience, frequently centering on the pain of migration, putting down roots in Israel, and the reestablishment of the Mizrahi identity as an inseparable part of the overall Israeli portrait."

The announcement of the recipients came after a scandal surrounding the prize committee after Prime Minister Benjamin Netanyahu's attempt to change its makeup.

76-year-old Gurfinkel's career spans decades. He started working on the "Geva Diaries", a series of newsreels shown before feature films and went on contribute to the groundbreaking experimental films of Uri Zohar in the 1960s, the popular "Bourekas films" of the 1970s, and the "New Israeli Cinema" of the 2000s.

The committee headed by entertainer Yehoram Gaon decided to select Gurfinkel because of "his undisputed stamp on the Israeli film industry".