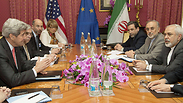 Prime Minister Benjamin Netanyahu lashed out again Monday against the negotiations taking place in Switzerland on Iran's nuclear program, saying that the Islamic Republic was benefitting from its aggression.

The foreign ministers of Iran and six world powers were meeting Monday in Lausanne for a final push on a preliminary nuclear accord, less than two days before the deadline.

"The emerging agreement in Lausanne sends a message that there is no price to pay for aggression, and conversely, there is a reward for Iran's aggression. The moderate and responsible states in the region, led by Israel and many others, are the first to be affected by this agreement," Netanyahu said.

"It is impossible to understand how when in Yemen forces supported by Iran continue to occupy more and more areas, in Lausanne we turn a blind eye to this aggression. But we will not turn a blind eye, and we will continue to act against any threat in any generation, and certainly in this one."

Related articles:

The prime minister said Sunday that the developing agreement on Iran's nuclear program was even worse than Israel had feared, and the "Iran-Lausanne-Yemen axis" must be stopped,

But a Western diplomat said Monday that it was unclear whether a deal on Iran's nuclear program could be reached, claiming major issues remain.

There are three major sticking points that must be resolved if Iran and major powers are to secure a framework deal before the self-imposed end-March deadline, and it is unclear whether those differences will be bridged, the diplomat said.

For days Iran, the United States, Britain, France, Germany, Russia and China have been holding marathon negotiations in the Swiss city to break an impasse in the negotiations, but officials had cautioned that attempts to reach a framework accord could fall apart.

Russia's Deputy Foreign Minister Sergei Ryabkov had voiced optimism earlier Monday over the talks, TASS news agency reported.

"An extremely intensive and very deep session of the six powers and Iran took place this morning," Ryabkov was quoted as saying. "The main thing that causes optimism is determination of all ministers to achieve results... within the current session."

Russian Foreign Minister Sergei Lavrov had been due to leave Lausanne on Monday for pre-planned meetings in Moscow, but could return to Switzerland on Tuesday, RIA news agency also quoted his ministry as saying.

In addition to US Secretary of State John Kerry and Iranian Foreign Minister Mohammad Javad Zarif, British Foreign Secretary Philip Hammond, French Foreign Minister Laurent Fabius, Germany's Frank-Walter Steinmeier, Lavrov and China's Wang Yi gathered at a 19th-century hotel overlooking Lake Geneva to try to end the deadlock in the talks.

The six powers want more than a 10-year suspension of Iran's most sensitive nuclear work. Tehran, which denies it is trying to develop a nuclear weapons capability, demands in exchange for limits on its atomic activities a swift end to international sanctions that are crippling its economy.

While some issues being discussed in the negotiations have been resolved, there are several differences on which the two sides have been unable to reach agreement. Both Iran and the six have floated compromise proposals in an attempt to make an accord possible.

One sticking point concerns Iran's demand to continue with research into newer generations of advanced centrifuges that can purify uranium faster and in greater quantities than the ones it currently operates for use in nuclear power plants or, if very highly enriched, in weapons.

Another question involves the speed of removing United Nations sanctions on Iran. A senior US official said Sunday there were other unresolved issues, but expected those would fall into place if the big sticking points could be worked out.

Even if Iran and the six powers reach an agreement by their end-March deadline, officials close to the talks say it could still fall apart when the two sides attempt to agree on all the technical details for a comprehensive accord by June 30.