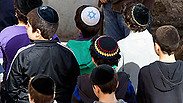 Commemorations in Touluose for victims of attack on city's Jewish school, 2013
Photo: Reuters
The chief rabbi of the French city of Toulouse, Harold Avraham Weill, was ordered Sunday to remove his kippa inside a polling station before voting in the city's local elections. The demand was made by a polling clerk from the Left Front coalition, according to a report by Russian news site Russia Today.
France prohibits wearing religious symbols, such as crucifixes, Jewish skullcaps and Muslim headscarves, in state schools. However, the law does not apply in cases in which schools are used as polling stations during the Election Day. The incident on Sunday marked the first time the law was used to prevent a citizen from exercising his voting rights.
According to the RT report, rabbi Weill called the incident "humiliating," noting that it was the first time since he had been given voting rights that he had witnessed such an incident.
"There was no insult, but an intention to intimidate me," he added. AFP cited the rabbi as describing the clerk's actions as "the overzealous behavior of someone who does not know election rules."
The rabbi further added that while he had filed a complaint with police for discrimination, it took him some time, as he did not want to "give ammunition to those who think Jews like to portray themselves as victims."
The local Communist Party, a member of the Left Front coalition said in a statement, said it "regretted" the incident and would work to "dispel the misunderstanding," RT reported.
The statement also restated the party's "unwavering support for the fight against anti-Semitism and xenophobic ideas."
The incident, which has already stirred controversy across France, took place three days after the city hosted commemorations honoring the victims of a shooting attack at a Jewish school in March 2012.
The incident claimed the lives of Rabbi Jonathan Sandler, 30; his 3-year-old and 6-year-old sons, Gabriel and Arieh; and 8-year-old Miriam Monsonego, daughter of school headmaster Rabbi Yaacov Monsonego. Three French soldiers also died in the attack.