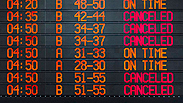 Flights cancelled during the summer war
Photo: Reuters
Hamas could face war crimes charges in the United States, as 26 US citizens plan to file a complaint with the US Department of Justice on Tuesday for the Palestinian Islamist group's actions during the Gaza conflict last summer.

The complaint focuses on Palestinian missile attacks that targeted Ben-Gurion International Airport. During the 50-day Operation Protective Edge, Hamas fired several long-range missiles at the site, including a missile fired on July 22 that narrowly missed the airport and hit a home in nearby Yehud.

In response to this missile strike, the US Federal Aviation Administration (FAA) issued a ban prohibiting American airlines from flying to and from Tel Aviv, and the airport was closed for a day during the operation because of the missile threat. Many European airlines followed the American example and cancelled flights to Ben-Gurion Airport as well.

Hamas took credit for the missile fire, with spokesman Sami Abu Zuhri proclaiming that "the success of Hamas in closing Israeli airspace is a great victory for the resistance, and is the crown of Israel's failure."

On August 20, Hamas made an explicit threat to launch missiles at Ben-Gurion Airport the following morning at 6am, warning international airlines to cancel their flights to the airport.

American citizens – both passengers and aircrew members – were at the airport in all instances of missile attacks at Ben Gurion Airport, according to the complaint.

The complainants are seeking to bring to justice members of Hamas' leadership and of the missile launching cell, among them are Khaled Mashal, Hamdan Awad, Sami Abu Zuhri, Hudheifa Samir Abdullah Allachlot (also known as Abu Obedia), Ahmad Ghandour, Raed Sa'ad, Marwan Abd al-Karim Issa and Salah Amar Dalul.

According to the complaint filed Thursday to US Attorney General Eric Holder, Hamas "deliberately directed its missile fire towards BGA in an attempt to kill or grievously injure as many civilians as possible." Hamas also "both attempted to, and in at least two instances succeeded in, disrupting air traffic and service at BGA."

According to the US Anti-Terrorism and Effective Death Penalty Act of 1996, a person who "unlawfully and intentionally, using any device, substance, or weapon," attacks an American citizen at an international airport or disrupts the services of an international airport can be sentenced to up to 20 years in prison.

The complaint details the disruptions to flights at Ben-Gurion Airport that affected US citizens. "The ban severely disrupted service at BGA, coming at the height of the summer tourism season," it reads.

"All United States carriers that fly to Israel cancelled flights for approximately 36 hours. In addition to the US cancellations, Delta Air Lines flight 468 with 273 passengers on board was diverted over Greece and forced to land in Paris. American Airlines was forced to remove passengers from a flight waiting to depart from BGA because the FAA would not allow the plane to take off with passengers on board."

The complaint was initiated and drafted by the director of legal NGO Shurat HaDin, attorney Nitsana Darshan-Leitner, and by attorney Robert Tolchin.

"It cannot be denied that Hamas and other Palestinian organizations targeted Ben Gurion Airport in an attempt to cause the death of travelers and hurt international companies," Darshan-Leitner said.

Yaara Shalom contributed to this report.