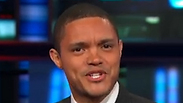 Trevor Noah, the newly announced successor to Jon Stewart on Comedy Central's late-night news parody "The Daily Show," defended himself against a backlash arising from past comments he made about Jews and women.

"To reduce my views to a handful of jokes that didn't land is not a true reflection of my character, nor my evolution as a comedian," the South African comedian said on Twitter on Tuesday.

Noah, the son of a black South African mother and a Swiss father, uses his mixed race in his comedy routine and came under fire for jokes he posted on Twitter.

Viacom Inc-owned Comedy Central also came to Noah's defense, saying the 31-year-old is "a talented comedian with a bright future" at the network.

"Like many comedians, Trevor Noah pushes boundaries; he is provocative and spares no one, himself included," the network said in a statement. "To judge him or his comedy on a handful of jokes is unfair."

Among the jibes being criticized was a 2009 tweet in which Noah said, "Almost bumped a Jewish kid crossing the road. He didn't look b4 crossing but I still would hav felt so bad in my german car!"

In another, he compared England's Manchester United football team to a white girl: "Heavy upfront but lacking in the back."

Noah's tweets prompted comments questioning how wise a choice he is to succeed Stewart on "The Daily Show," which averages slightly more than one million viewers each night.

Some Twitter users, including American comedian Roseanne Barr, criticized Noah for being "sexist" and using anti-Semitic humor.