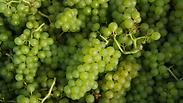 Israeli grapes
Photo: Getty Images
Grapes in the winter? Apparently so. Using special pruning techniques and plastic sheeting to cover the vineyards, Israeli agriculturalists have come up with a way to "convince" grapes to ripen in the cold season too.
According to the Agriculture Ministry, researchers in the south of Israel have successfully grown an existing variety of seedless grape, Early Sweet, during the winter months. Currently, Early Sweet grapes are marketed in the summer, but Agriculture Ministry officials now say that the new method will allow farmers to grow and sell the particular variety from January through to April too.
If farmers adopt the new growing method, Israelis will be able to enjoy grapes pretty much all-year round, and at reasonable prices too.
Meanwhile, researchers from the Jordan Valley Regional Council have developed a substance that causes date palms, which usually reach a height of some 25 meters and more, to grow only as high as a regular fruit tree.
The development will cut cultivation costs, increase the lifespan of the trees, and also make the date harvesting easier and safer.
"It's really great news for the farmers," said Tamir Cohen, a date farmer from Moshav Tomer in the Jordan Valley.
"At some stage, the old trees get so tall that it doesn't pay to harvest from them due to the high labor costs and expensive machinery involved. And then they have to be replaced and you lose about seven fruit years."