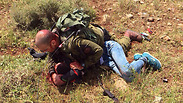 Wounded soldier tackled terrorist
Photo: IDF Spokesperson's Unit
An IDF commander of a paratrooper unit was stabbed in his torso Thursday after confronting a group of Palestinian illegal aliens trying to cross into Israel, near the Oranit security checkpoint along the Trans-Samaria Highway. The soldier was lightly wounded, but managed to quickly tackle the terrorist and hold him to the ground.
The soldier, named as Yoav Leitman, is conscious and is listed in light condition. Medical and security forces arrived at the scene.
The incident occurred when IDF Paratrooper forces approached the security fence in the area of Oranit, where a group of 6-8 Palestinian illegal aliens was attempting to cross into Israel through the fence. One of the Palestinians pounced on one of the soldiers and stabbed him. Security forces arrested the assailant, as well as the other Palestinians.
The Hamas terrorist group praised the stabbing attack in Shomron. A statement issued by the group said that the attack underscores the determination of the Palestinian people to continue its path of resistance, despite all the obstacles and difficulties.
Meanwhile, Jerusalem police completed its preparations for securing the capital ahead of the Passover holiday. Jerusalem police officers, along with Border Police officers and volunteers, will be deployed to locations across the city, including in crowded areas and shopping centers during the days before the holiday.
During the holiday itself, officers will secure locations around the Old City and in the area of synagogues in order to protect the safety of worshippers, as well as maintain public order and safety and direct traffic.