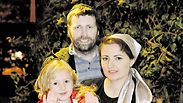 'We're very happy with our decision'.
Photo: Yogev Amrani
It was just a year ago that Daniella and Alexander Melina, aged 33 and 35 respectively, arrived in Israel from São Paulo, Brazil, accompanied by their three-year-old daughter, Elise. In Israel, they converted to Judaism, and on Friday they marked their first Passover in the Promised Land.

"We are very excited to celebrate Passover here in Israel, especially after our conversion," they said. "We're extremely happy and very satisfied with our move to Israel. For us, it is a dream come true."

Holiday with Family

After a year worrying about their daughter, who moved to Israel to serve in the army and spent Operation Protective Edge operating Iron Dome battery, the Bermans arrive in Israel for the holiday.

The trio left Brazil in December 2013 and headed to Ra'anana, where they began their long-dreamed of conversion process.

According to the older Melinas, "We did not have any contacts here in Israel, except for Rabbi Eliyahu Shadmi, the director of Chabad of Ra'anana. He did not deal with conversions, so we searched for someone who could help us with the process."

Daniella, who works as a kindergarten assistant despite her MA in genetics, says that she had been taught the commandments since she was born, but she learned them without knowing their connection to Judaism.

Only after she grew up and began to research the subject, did she discover her connection to Judaism.

"I suddenly realized that the commandments I learned from my great-grandmother have a deeper meaning for me," she says.

Daniella's great-grandmother emigrated with her family from Morocco to Brazil, where, Daniella says, it was hard for Jewish families to live by their faith, go to synagogue or take part in Jewish ceremonies.

"I knew my grandmother was probably Jewish, but it was hard to live as a Jew in the city, and the family kept the commandments as well as they could," she says.

.

Daniella says she spent ten years looking for the documents proving that she had a Jewish grandmother, and decided to convert when she could not find them, on the recommendation of a local rabbi.

"The rabbi told me not to give up, keep searching for the documents," she says. "At the same time, he suggested that if I wanted to, I could go through a process of conversion in Israel."

Alexander also encountered difficulties at first. He had a Jewish father, but his mother's religion was in doubt. He says he used to go to the synagogue in Brazil, but that was apparently not enough to prove his Jewishness.

The couple, who began maintaining a religious lifestyle in order to start the conversion process, agreed to the rabbi's proposal and six months later moved to Israel. Ten months later, just before Passover, all three were recognized as a Jewish family.

"We were recommended a good teacher in Ra'anana and began to study twice a week. Finally we took the exam," says Alexander.

Why not convert in Brazil and not in Israel?

Daniella: "There were many reasons behind our choice to immigrate to Israel, but the main reason was because we wanted a good Jewish life that was more real."

Did you find it hard to get used to a religious way of life?

Daniella: "No, we enjoyed the studying. If you like Judaism and the commandments, it is an extraordinary and amazing experience. After we converted, we had to get marry again in a Jewish ceremony and it was an amazing wedding."

Was it hard to leave your family and friends and come alone?

"The state helped us acclimatize the first five months, but the aid stopped and it was like we were thrown in at the deep end," says Alexander, a technician by trade, who now works in a restaurant.

"I'm looking for a job in my profession, but because I do not speak the language and there is no one to guide me, it's hard. I send out resumes, but do not get a reply. It's very difficult."

Daniella: "It was very difficult when we first arrived in Israel, but we left our lives in Brazil because it was important for us to be in Israel and complete the conversion, despite all the difficulties.

"We lived at first in the absorption center in Ra'anana, on the recommendation of the Jewish Agency. Since we arrived, we have been able to connect with many people in the community, and we have a lot of friends who help us, host us and accept us with open arms. We are now building our entire life from scratch, but we are very happy and pleased with our decision."