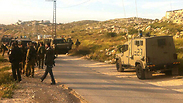 גבר בן 22 נעדר תושב באר שבע סמוך ל חברון קרית ארבע כוחות צה"ל סריקות
Photo: Tazpit
After Israeli security forces searched the Hebron area for him for 10 hours, 22-year-old Niv Asraf from Be'er Sheva, who was feared kidnapped, was found alive in Kiryat Arba on Friday overnight. IDF Spokesman Moti Almoz said Asraf's soldier friend fabricated the kidnapping.
Asraf was found in a wadi in Kiryat Arba with canned food and a sleeping bag, a Judea and Samaria Police spokesman said.
"The 'missing man' and his friends staged a kidnapping. We'll investigate the reasons behind this and will handle this to the full extent of the law," the spokesman said.
Israeli security forces were first alerted to Asraf's disappearance when his friend called the police at 4:17 pm, saying he and Asraf were stranded with a flat tire on their way to pray at the Cave of the Patriarchs. The caller said Asraf went to find tools to replace the tire but never returned.
However, when the IDF arrived at the scene, troops found no flat tires in the vehicle and after other questions arose from the friend's story, he was taken for questioning.
"At first the friend told us (Asraf) went in a particular direction, and then it turned out it was somewhere else, but it might not have been maliciously," Almoz said.
The two stopped their vehicle near HaOkfim Junction on Highway 60 between Bayt Einun and Hebron.
Hundreds of policemen and soldiers from the IDF's Judea and Samaria division were deployed to the area to search for Asraf, including Special Unit soldiers. The troops were searching houses and cars in Bayt Einun.
Forces were searching the area between Halhul north of Hebron and Bani Na'im south of Hebron. The IDF also launched drones and observation balloons into the air to for a bird's eye view of the area.
IDF forces searching for the missing man (צילום: סוכנות תצפית)
The army closed roads around Bayt Einun on Highway 60 and Highway 35 as part of the search effort and declared the entire area a closed military zone.
A friend of Asraf told Ynet before he was found that "this isn't the first time he's gone missing."
"His girlfriend broke up with him several days ago and there's a possibility he's doing it to provoke. I think he's hiding somewhere and he'll turn up somewhere in the end," the friend added.
After Asraf was found, IDF troops returned to their routine activity, while the investigation into the incident was passed on to the police.