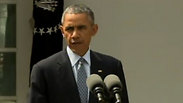 US President Barack Obama
President Barack Obama said the 'framework' agreement on curbing Iran's nuclear program was "a good deal – a deal that meets our core objectives."
He stressed that the nuclear deal – if completed – will make US, its allies, and the world safer. The American president also claimed that the deal shut down Iran's path to constructing a bomb using enriched uranium but warned that the deal does not end US mistrust of the Islamic Republic.
President Obama on Iran nuclear deal (צילום: רויטרס)
Obama was scheduled to be away, but he delayed his departure as negotiators in Switzerland hammered out final details of a framework agreement. Obama has invested significant political capital in the nuclear negotiations. The talks have strained the US relationship with Israel and deepened tensions with Congress.
US Secretary of State John Kerry said late in the evening that the Americans consulted with Israel and the Gulf states and reaffirmed the US commitment to their security.
Meanwhile, French Foreign Minister Laurent Fabius and President Francois Hollande welcomed the "framework" agreed on curbing Iran's nuclear power on Thursday but said there was work to do to before there could be an acceptable deal.
"This is a stage agreement that includes some incontestable positive developments but there is still work to do," Fabius said on France 2 television from Lausanne, in Switzerland, where the talks are taking place.
In a statement noting the new deadline of June 30 for a final deal, Hollande added: "France will be watchful, as it always is in step with its partners, to ensure that a credible, verifiable agreement be established under which the international community can be sure Iran will not be in a position to have access to nuclear arms."
German Chancellor Angela Merkel said on Thursday that the agreement with Iran represented an "important step."
"We are closer than ever to an agreement that makes it impossible for Iran to possess nuclear weapons," Merkel said in a statement after news of the preliminary deal between world powers and Iran in Lausanne, Switzerland.
Germany's foreign minister said the agreement represented a "big, decisive step forward" that could lead to an easing of tensions across the Middle East if a final deal was clinched in over the coming months.
"It is too early to celebrate. Nevertheless, with the framework agreement we have overcome obstacles that stood in the way of a deal for a decade," Frank-Walter Steinmeier said in a statement.
"If a final agreement is achieved, it could in my view not only pave the way for a solution to the Iran conflict, but it would be the first and only conflict in the Middle East where we will have achieved a deescalation. It could therefore provide hope for an easing of tensions in the region and between Iran and Arab states," Steinmeier added.
British Foreign Secretary Philip Hammond said a fuller deal that kept to the agreed parameters of the initial agreement would provide reassurance that Tehran's nuclear program was peaceful, but said intensive talks to thrash out the "fine detail" now lay ahead.
"This is well beyond what many of us thought possible even 18 months ago and a good basis for what I believe could be a very good deal," Hammond said in a statement. "But there is still more work to do."
While the US president praised the 'historic' deal, one of his toughest challenges will be convincing Congress to hold off on legislation that would authorize new sanctions on Iran. The president has warned that the legislation could upend the delicate diplomacy.
Reuters and the Associated Press contributed to this report.