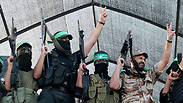 Hamas victory rally after the conflict. 'Hamas has never been hit so hard.'
Photo: Reuters
GOC Southern Command Major General Sami Turgeman spent the first night of the battle in Saja'iyya, during Operation Protective Edge, at the Golani Brigade's forward command post. He got there just after the APC disaster in which seven Israel Defense Forces soldiers were killed. It was a rough night. Reports were coming in non-stop – Israeli fatalities and wounded, fierce resistance on the part of Hamas, determined fighting by the Golani troops.
Why was it so tough there, in Saja'iyya?
"Saja'iyya is a very complex expanse, with a densely constructed subterranean infrastructure and five attack tunnels leading to military bases and civilian communities. We knew it would be very difficult there, and that's why we sent in one of the IDF's strongest brigades, the Golani Brigade. It successfully carried out all the tasks assigned to it. It occupied and took control of the entire area and destroyed the tunnels. I went into Saja'iyya. I saw them operating there, with booby traps and explosive devices everywhere. I am full of admiration for the brigade."
Perhaps you failed to prepare sufficiently?
"We prepared very well before going in. We even postponed the operation for 24 hours to soften the area with firepower. In war, there's a very fine line between success without casualties, and success but at a high price. Dozens of clashes took place there, and the Golani fighters came out on top in the vast majority of them, without casualties."
The bitter aftertaste – theirs not ours
Turgeman, 50, doesn't pull his punches; and when I ask him about the bitter aftertaste left behind by Operation Protective Edge, he responds indignantly.
"I don't work for Tnuva; I'm the head of the Southern Command," he says. "I don't deal with cream or bitterness. Protective Edge was a victory. Hamas had plans and put them into practice with the aim of harming civilians and soldiers. They weren't successful because we prepared for their capabilities and managed to neutralize their intention to strike at civilians. Forty-five terrorists infiltrated through tunnels during Protective Edge, but not a single one saw a civilian or encountered a civilian or threatened a civilian. They encountered military forces.
"When I read Hamas' intelligence reports, that's when I come across the bitter aftertaste – the fact that it failed to realize its offensive aims; the fact that around one thousand of its fighters were killed and many others were wounded; the fact that it lost its most significant asset, the attack tunnels that it spent four or five years building; the fact that we destroyed its operational infrastructure throughout the Gaza Strip; the fact that it fired 4,500 rockets in the hope of achieving much deadlier results but was thwarted by our defense systems.
"They are the ones who've been left with the bitter aftertaste because they built up their force over many years, put it into operation for 50 days, and weren't able to achieve what they expected. And in the end, the campaign ended on our terms, not on theirs. The bitter aftertaste is definitely with them."
How will this impact Hamas' motivation to initiate another conflict?
"Hamas has never before been hit so hard. Yes, it suffered in Operation Cast Lead, and in Pillar of Defense, too; and in the end, these organizations weigh things up and act in keeping with their own interests and the objectives they wish to achieve. But from a military perspective, there's the potential for a true expression of the hard hit they took, and it could last for a long time."
How long?
"These things are very difficult to foresee. I don't think there's anyone in the State of Israel, not even in the IDF, who would have foreseen nine years of quiet after the Second Lebanon War. And here we are now, nine years after the Second Lebanon War, and we have almost complete quiet along the northern border. It's very difficult to gauge these operations scientifically. In the end, it's an issue that is influenced by other factors too."
Turgeman doesn't know when the next conflict will erupt in Gaza, but he does know that Hamas is doing everything it can to prepare for one.
"Hamas is digging tunnels again," the major general says. "We are monitoring the situation closely, and they are definitely digging again. It's trying to work its way back more or less to the number (of tunnels) it had before Protective Edge, because its subterranean network was one of the things that took the hardest hits. That capability, which it had built up over many years, was severely damaged."
Not an operation – a war
Since taking up his position as GOC Southern Command some two years ago, Turgeman was one of the few members of the General Staff who warned repeatedly of the grave threat of the tunnels.
"The issue of the underground tunnels didn't begin with Protective Edge," he says. "The entire security system has been dealing with this challenge for many years already. In 2006, after all, Gilad Shalit was abducted through a tunnel. But yes, the idea of a network of tunnels and the enemy's idea of using this network to move its offensive efforts into our territory has evolved and grown in recent years."
Were you surprised?
"No. I said a year before the operation, in the media too, that an underground network was being dug in the Gaza Strip, and that it wasn't a Metro. Now, too, as we speak, Hamas is digging tunnels."
Were there any warnings about a war in the summer?
"If you're asking me if there was an intelligence report warning of a war in July, then the answer is no. If you're asking me if I was surprised that we got to a point of conflict with Hamas in July, then the answer is no again. We've been keeping track of the Gaza Strip and Hamas for a long time; we witnessed the process Hamas underwent beginning in July 2013.
"The moment (former Egyptian president Mohamed) Morsi was toppled, the strategic reality surrounding the Gaza Strip changed dramatically. Hamas lost its support, lost its strategic backing. Egypt's decision to cut off the Strip from the Sinai Peninsula affected the economic reality in Gaza, the reconciliation with the Palestinian Authority didn't achieve the expected benefits, and the entire system started bubbling over.
"When we saw this reality, at the beginning of 2014, I said at the Command that we need to prepare for war, or a campaign against Hamas, in July 2014. I also passed on my recommendation to the chief of staff, and the chief of staff set a target date for the preparations. So that aspect of the campaign in the summer campaign wasn't a surprise for me; because when you weigh up all the circumstances surrounding the Gaza Strip at the time, you don't need a specific intelligence report that gives you a day, date and time. You understand that the reality is leading you there."
On the eve of the operation, did you think it would continue for 50 days?
"No one planned a campaign of 50 days, and that certainly wasn't our aim. Once we make the decision to launch an operation, our aim as an army is for the campaign to be as short as possible – and certainly when it comes to this type of campaign, when you realize that the entire home front is under threat. But when you embark on an operation, you don't set out to complete it in a short period of time.
"You set out to make operational achievements. It wouldn't be right to embark on an operation and end it after a short period of time only for the sake of calling it a brief operation. You have to accomplish things. Bringing a war to a quick end without achieving what you set out to do is a serious mistake."
That wasn't a slip of the tongue. As Major General Turgeman sees it, Protective Edge was, for all intents and purposes, a war.
"From my point of view, it wasn't an operation but a war," he says. "That's how the forces in the field, the commanders and the soldiers, felt. There's no other way to define it."