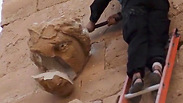 ISIS militants destroying Hatra
Photo: AP
BAGHDAD - Islamic State extremists at Iraq's ancient city of Hatra destroyed the archaeological site by smashing sledgehammers into its walls and shooting Kalashnikov assault rifles at priceless statues, a new militant video purportedly from the group shows.

Militants attacked Hatra, a UNESCO World Heritage site, last month, officials and local residents said, though the extent of the damage remains unclear as it is in territory still controlled by the Islamic State group.

The video, released overnight Friday, shows a militant on a ladder using a sledgehammer to bang repeatedly on the back of one of the carved faces until it crashes to the ground and breaks into pieces. The video also shows a militant firing a Kalashnikov rifle at another, while men chop away the bases of some of the larger wall sculptures.

ISIS destroying the ancient city of Hatra in Iraq

The video corresponded with Associated Press reporting on the attack and was posted to a militant website frequently used by the group.

One of the militants, who speaks Arabic with a distinct Gulf accent on the video, declares they destroyed the site because it is "worshipped instead of God."

The Islamic State group, which holds a third of Iraq and neighboring Syria in its self-declared caliphate, has been destroying ancient relics they say promote idolatry that violates their fundamentalist interpretation of Islamic law. Authorities also believe they've sold others on the black market to fund their atrocities.

Local government officials told the AP last month the militant group had looted and destroyed several ancient sites, including the 3,000 year-old Nimrud, another UNESCO World Heritage site. United Nations Secretary-General Ban Ki-Moon called the Nimrud attack "a war crime."

Another video released in February showed militants smashing artifacts in the Mosul Museum and in January, the group burned hundreds of books from the Mosul library and Mosul University, including many rare manuscripts. The majority of the artifacts destroyed in the Mosul Museum attack were from Hatra.

Hatra, located 110 kilometers (68 miles) southwest of the Islamic State-held city of Mosul, was a large fortified city during the Parthian Empire and capital of the first Arab kingdom. The site is said to have withstood invasions by the Romans in A.D. 116 and A.D. 198 thanks to its high, thick walls reinforced by towers. The ancient trading center spanned 6 kilometers (4 miles) in circumference and was supported by more than 160 towers. At its heart are a series of temples with a grand temple at the center - a structure supported by columns that once rose to 100 feet.

The video's release comes after the Iraqi government this week claimed victory against the Islamic State group in Saddam Hussein's hometown Tikrit. Tikrit is 80 miles (130 kilometers) north of Baghdad on the main highway to Mosul, Iraq's second-largest city. Seizing Tikrit was key to an eventual campaign to retake Mosul - and the historic sites near it.