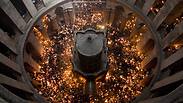 The Holy Fire ceremony at the Church of the Holy Sepulcher
Photo: EPA
Some 130,000 Jewish and Christian tourists are expected to visit Israel to celebrate Passover and Easter, the Tourism Ministry said this week.

"There are many sites in Israel that are holy to different religions and the Tourism Ministry invests significant resources in order to encourage incoming tourism during the time of religious holidays," Tourism Minister Uzi Landau said.

Jewish holidays follow a lunar calendar, and Christian holidays a solar calendar, but sometimes they overlap. This year, Jews in Israel will begin the 7-day celebration of Passover on Friday night, while Christians celebrate Good Friday and Easter Sunday the same weekend.

The juxtaposition means tens of thousands of tourists clogging Jerusalem's narrow alleyways, and potential clashes between Israeli police and Palestinian youths.

"General standard security measures will be implemented in Jerusalem with an emphasis on the Old City" where the religious sites are clustered, Jerusalem police spokesman Mickey Rosenfeld told The Media Line. "There are no specific alerts, but there are a number of special events that we are preparing for."

On Holy Saturday (April 11), the giant screens will be set up outside the Church of the Holy Sepulcher and at the Jaffa Gate, broadcasting live the Holy Fire ceremony taking place inside the church, which is expected to be packed with pilgraims.

Easter Sunday means the procession of the Latin Patriarch from Bethlehem to Jerusalem. Last year, Israel closed access to the Church of the Holy Sepulchre, a decision Father Jamal Khader from Beit Jalla hopes won't happen again.

"When we got here to the Church of the Holy Sepulchre, we noticed that this whole area was empty, but full of soldiers and policemen," Khader said. "The soldiers didn't allow anyone to get here. This is a violation of the freedom of worship here in Jerusalem."

Religious leaders in Jerusalem say they hope that the upcoming season will be a time not for violence, but for peace and reconciliation.

"I wish you all, your country, your families, your people, Happy Easter," Latin Patriarch Fouad Twal told a small group of journalists. "I wish to us all a happy new resurrection, to change the way we are living, and find more peace, more justice, and more collaboration."

Article written by Linda Gradstein.

Reprinted with permission from The Media Line.