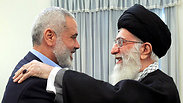 Hamas leader Khaled Mashal with Iranian Supreme Leader Ali Khamenei
Photo: EPA
Iran has given Hamas millions of dollars to reconstruct the tunnels in the Gaza Strip that were destroyed by the IDF in last summer's fighting, British newspaper The Telegraph reported Sunday, quoting "intelligence sources".

The IDF destroyed more than 30 tunnels in Gaza during the 50-day Operation Protective Edge last summer. The tunnels, which cover an extensive area of subterranean Gaza, were used to transport munitions and missiles for use against Israel. A series of terrorists were also sent through tunnels that emerged inside Israel to carry out attacks.

The Islamic Republic is also providing Hamas with funds for new missiles, after Israel decimated its stockpiles, the report said. During the fighting, Hamas and other Palestinian groups sent thousands of missiles and rockets into Israel, aiming for civilian areas. With Israel's Iron Dome missile defense system, however, few found their target.

Iran, whose opponents have long warned is seeking to become the dominant force in the entire Middle East, had long been a key sponsor of the Palestinian Islamist group, which controls Gaza.

Related articles:
How Gaza became an underground monster
Exposed: Hamas mega-attack through Gaza terror tunnels
Hamas has openly stated that it is rebuilding its tunnels, although Israel and the international community placed strict measures on the entry of cement and other building materials into Gaza in the wake of the fighting, it has still managed to commandeer resources intended to rehabilitate the Strip after the conflict.
Tehran also provides logistical and financial support for the enemies on Israel's borders - Hezbollah in Lebanon and the Syrian regime under Bashar Assad. But Hamas' support for the Syrian rebels battling to oust Assad led to a split with its key sponsor and its removal from its base in Damascus.
Shia Iran has also provided support for the Houthi fighters in Yemen, who are currently the target of a Saudi-led coalition of predominantly Sunni Gulf states, which has been conducting regular air strikes against the group as it seeks to seize total control of the Saudi neighbor.