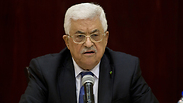 Palestinian President Abbas
Photo: Associated Press
Palestinian Authority President Mahmoud Abbas said on Sunday Israel had released frozen tax revenues to the Authority but that he had ordered the funds to be returned because money had been deducted to cover debts to Israeli utility companies.

Palestinians are believed to owe millions of dollars for use of utilities and hospitals.

Under existing agreements, Israel collects taxes and customs on behalf of the Palestinians and then transfers the sums. That revenue accounts for about 70 percent of the Palestinians' budget.

Israel started withholding around $130 million a month in tax and customs revenues in December. The move came after the Palestinians announced that they were joining the International Criminal Court (ICC), a move finalised on April 1.

Under international pressure, Israel agreed last week to resume the transfers, saying it would immediately pay around $400 million - the withheld revenues minus the amount owed by the Palestinians for utilities supplied by Israel.

Palestinian officials said Israel owes the Palestinian Authority 1.8 billion shekels ($450 million) in frozen funds, but that Israel demanded to keep hundreds of millions of shekels for debt repayment.

Abbas said those deductions amounted to a third of the total sum that Israel owed the Palestinians.

"We are returning the money. Either they give it to us in full or we go to arbitration or to the court (ICC). We will not accept anything else," he said in a speech.

A spokesman for Prime Minister Benjamin Netanyahu had no immediate comment.

The two sides are expected to meet on the issue in an attempt to reach an agreement that would be acceptable to both.

In February, Israel's state-owned electric company briefly cut power to several Palestinian cities in the West Bank to press for payment of what it said was $492 million owed by the Palestinian government.

Palestinians in the West Bank, territory Israel captured in the 1967 Six-Day War, are largely dependent on electricity supplied by Israel Electric Corp.

The Associated Press contributed to this report.