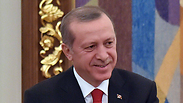 Turkish President Erdogan. Media crackdown
Photo: AFP
ISTANBUL - Access to Twitter and video-sharing website YouTube were blocked in Turkey on Monday following a court decision based on complaints from individuals, a source in Turkey's telecoms industry said.

Turkey temporarily blocked Twitter and YouTube in the run-up to local elections in March 2014, after audio recordings purportedly showing corruption in the inner circle of Tayyip Erdogan, then the prime minister and now the president, were leaked on their sites. That decision caused a public uproar and drew heavy international criticism.

Turkey's telecoms regulator could not immediately be reached for comment and there was no statement on its website.

The blocks come less than a week after an Istanbul prosecutor died after security forces stormed the office where members of a far-left group had taken him hostage.

Several Turkish newspapers said that the blocks came after photos of the prosecutor being held at gunpoint were circulated on social media while the siege was ongoing.

"This has to do with the publishing of the prosecutor's picture. What happened in the aftermath (of the prosecutor's killing) is as grim as the incident itself," presidential spokesman Ibrahim Kalin said.

Turkey filed over five times more content removal requests to Twitter than any other country in the second half of 2014, data published in February by the micro-blogging site showed.

Last year, Turkey tightened laws allowing sites to be blocked by the authorities more easily.