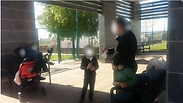 Visitors to Afula park eating their buns outside after being refused entry.
A couple from Tel Aviv that arrived at a park in Afula on Sunday was surprised to learn that the security guard at the entrance to the park was searching visitors' bags not just for weapons - but also for chametz (leavened food).

Those who had food that was not kosher for Passover were not allowed into the park - even if they were not Jewish.

Outraged by the policy enacted by the Afula municipality, Barak and Michal Avivi took to Facebook to express their protest and on Monday, they filed a complaint with the Afula municipality, claiming the policy was causing discrimination.

The Afula municipality, on its part, said that according to the Chametz Law and its interpretation by the Interior Ministry, leavened food was not allowed into public places during the holiday.

"The visitors who were left out of the park had their children eat the buns outside, and in some cases some of the visitors left," Barak Avivi told Ynet. "It was very embarrassing and shameful to see. These are Arab citizens or Jews who just don't keep kosher. I personally keep kosher, but it seems to me like this was religious coercion where one should not be."

Avivi wondered what would've happened if tourists tried to enter the park with chametz. "Would they have not been allowed in either? The situation is problematic. Anyone that passed by at the time saw the visitors who were left outside eating buns," he said.

Avivi, who is an attorney, said that the law that forbids the sale of chametz does not forbid personal use. "I live in Tel Aviv and I didn't see anyone at Yarkon Park daring to check who has chametz, even though it's a public place," he said.

His wife, Michal, is the one who took to Facebook to write about what she and her husband saw. "In Israel of 2015 - people's bags are being searched for food. Not weapons, not explosives - food! I won't add to this, because I believe this case speaks for itself. I just have to say I couldn't just walk by those people, while they were being punished, and ignore this very brutal trampling of democracy happening before my eyes."

The Afula municipality said that a 2008 Interior Ministry memorandum determined that according to the Chametz Law, leavened food cannot be displayed in public places at all, and the city park was defined as a public place. It is therefore forbidden to bring in leavened food.

The municipality also noted that "this rule also applies to hospitals and other public places. The municipality was acting lawfully."

And, indeed, Ynet encountered other such cases of guards looking for chametz at the entrance to universities and hospitals.

"I just told the security guard that my sandwiches are made of Matzo meal and got in," a visitor to one of the country's hospitals told Ynet. "I lied so I could eat what I want and mostly so my husband, who is hospitalized, could eat what he wants."

"I don't eat this in public," she clarified. "I only bring sandwiches to my sick husband who is strictly secular and eats in his room."
What does the law say?
1. Who is forbidden from displaying or selling chametz?

According to the 1986 Chametz Law, "from noontime on Nissan 14, until 20 minutes after sunset on Nissan 21, a business owner will not publicly display a chametz product for sale or consumption." According to the law, this includes bread, buns, pitta bread or any other kind of leavened food.

Meaning, the law applies to business owners, but does not apply to customers.

2. When is consideration shown to 'non-Jews'?

The law doesn't not apply "inside a community in which most of the residents or most of the members of the local regional council are not Jews; inside a community - in the part of the community where most of the residents are not Jews or most of the businesses do not belong to Jews; inside a collective moshav in which businesses serve the residents of the moshav only."

On the one hand, there are many non-Jewish communities around Afula. Afula itself has businesses owned by non-Jews, in which non-Jews work and shop. Having said that, Afula is not a city in which most of the residents or most of the businesses are non-Jews.

3. Does a security guard have the authority to search for chametz?

It's safe to assume that a security guard, as part of his job, routinely checks visitors' bags. However, security guards are supposed to look for weapons, not chametz. In addition, according to the law, a security guard is not an inspector.

The law says that the interior minister appoints special inspectors with the authority to investigate the sale and display of chametz. It's not at all certain that security guards hold the same authority.

According to the law: "The Interior Minister will appoint inspectors on this matter from among state employees and among those lawfully appointed inspectors, as well as from a list of inspectors and supervisors submitted to the minister by local authorities. The inspector, as stated, will have authority to hold an investigation according to this law."

The inspector's authorities include "a police officer's authorities based on section 2 of the 1969 Criminal Procedure Ordinance (Arrest and Search)." An inspector will also be able to "use all authorities given to a police officer in the rank of inspector, according to section 2 of the Criminal Procedure Ordinance (Testimony), and section 3 of the aforementioned ordinance shall apply to a prescribed pursuant to this authority."