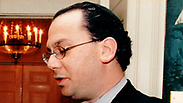 US Jewry and the Spirit of Capitalism: Synagogue of the rich and famous marks 25th anniversary
Rabbi Marc Schneier's synagogue in the Hamptons caters to US' richest and most powerful Jews, mixing a distinctly American brand of religious pluralism, local community life and deep-pocketed philanthropy to consolidate a pro-Israel force to be reckoned with.
In 1994, when Steven Spielberg was at the height of his illustrious career, fresh from an Oscar victory for Schindler's List, Rabbi Marc Schneier knew he was the man he wanted to keynote the dedication of his biggest project yet - a synagogue in the Hamptons, the summer retreat of New York's most powerful.

Few believed that Spielberg would show up to the event, as Schneier - already a prominent New York City rabbi - was known for his PR savvy, and some were sure he was just pulling a publicity stunt. But then again, few believed that Schneier would be able to build a Jewish house of worship and eventually a flourishing Jewish community within the heart of WASP America.

"I was like a salmon going against the stream," he told Ynet. "There were local leaders who said: 'We never had a synagogue in Westhampton Beach and we will never have a synagogue in Westhampton Beach.'"

But in the span of a quarter of a century, Schneier - now a "rabbi to the stars" - has used his flair for cinematics and celebrity to do just that. He has consolidated some of America's most powerful Jewish families in Westhampton Beach into a 500-family strong community, described in unison by its members as welcoming and friendly.

Now, 25 years after Spielberg drove through a storm to keep his word to the rabbi, Schneier's synagogue is a religious powerhouse that boasts among its congregants some of the biggest names in American Jewry, from captains of industries to top US top politicians. And it's a formidable force in US and Jewish politics, linking the two worlds through one synagogue built on New York's most prime real estate.

Schneier says he wanted Spielberg because he was one of the most famous men in America at the time, but it was more than that - Spielberg was arguably the most famous Jewish man of that time: A symbol of success who used his power to put the Jewish story in heart of the mainstream.

That's why the rabbi pressed whiskey magnate and Jewish philanthropist Edgar Bronfman to be seated next to Spielberg at a dinner for the Beit Hatfusot Museum of the Diaspora in Tel Aviv, at the Plaza in NY in 1994 so he could pitch his synagogue project to the Jewish director and get him on board - physically.

"I didn't want his presents, I wanted his presence," Schneier says, skillfully recalling the farcical drama that played out before the director eventually arrived, "in a beat up old Volvo car, wearing a baseball cap." Spielberg's dedication to the synagogue was authentic, Schneier says, but it is also now part of its legend.

Schneier wanted Spielberg because Schneier understands America, he speaks its language of entrepreneurship and showmanship, and uses symbols of success to promote a distinctly American brand of pluralistic Judaism, community identity and pro-Israel philanthropy.
Exclusive community, inclusive temple
Schneier, an Orthodox rabbi most famous for his interfaith work with both Islamic and African-American communities with the likes of Russell Simmons, toiled for countless hours to bring together people from radically varying degrees of Jewish identity. His synagogue offered affluent Jews of all denominations a local and collective identity - both elitist and folksy - and with the years more and more people moved to the area to join the congregation.

"It raised property prices," laughs Harvey Kaylie, an electronic hardware magnate and proud member of the congregation. He explains that "people sold their old houses and moved to Westhampton so they could be in walking distance of the synagogue on Shabbat."

Jerry Levin, a prominent US businessmen and Jewish leader who is the past president of the UJA-Federation of New York, recalls his first visit to the synagogue and the first time he met Schneier a decade ago.

"(Rabbi Schneier) knew I was coming, and I was approached by the synagogue president and he told me that the rabbi wanted me to open the ark, and I said, 'I prefer not to, honor someone else,'" he recalls with humor.

The rabbi courted both Levin and his wife to get more involved with the synagogue. "He's charismatic and very persuasive," says Levin. But it was not just the charm that got them hooked, "the synagogue is very welcoming."

Levin respected the fact that though he was Reform there was a place for him in the Orthodox synagogue. In fact, over time, he and his family actually grew more in touch with their faith through their interaction with the synagogue. Partly because Schneier called him out that day, Levin now proudly defines himself as Modern Orthodox - "however you wish to define it," he allows.

"It is like no other synagogue I've ever been to or heard of, it covers all channels of the Jewish religion, there are literally black hats (ultra-Orthodox) and people who are avowed atheists who are regular goers," he says in a telephone interview, describing the feeling of community and identity he found in the Hamptons Synagogue.

"Why do atheists come? Because they're proud of being Jewish and the synagogue has done an amazing job at connecting people to Jewish society of all sorts, and that's for young people as well.

"I can be Reform and stumble on my Hebrew and still lead a prayer service," Levin says, sounding as if the idea is still almost inconceivable in the segmented world Jewish identity in the US.

Personally, Kaylie especially connected to the social life fostered by the synagogue. He says he enjoys playing chess at the adjacent kosher bakery and listening to guest speakers, such as the Israeli presidents and IDF top brass who Scheiner brings to the synagogue as part of its weekly programs.

There is also a Hebrew school, film theatre and recreational center which Kaylie donated himself.

Levin reiterates this point. "It's like summer camp, all the programs - especially on Shabbat - are very well attended… you can get close to a 1,000 people there who have chosen to attend the service instead of spending Saturday on their yacht."

Schneier tapped into the need for an inclusive environment within the exclusive and presumably isolated Hamptons community. Schneier imbued it with his brand of open and generally progressive Judaism, and in style and form the synagogue caters perfectly to its top clients, meshing pluralism and love of Israel with a capitalist ethic.
The gift of giving
Israel plays an important part in holding the affluent community together. "We are overcome by an obsession with Israeli charities," the rabbi jokes. "Every Shabbat we pray for Israel and the IDF," Schneier proudly says in a telephone interview.

The community also holds the record for most funds raised for Israel by a single synagogue ($10.5 million in one a day), but congregants say that this is not the key to its success, but rather it is the community itself.

Kaylie says that for him the philanthropic aspect touches on the community's values and gives members give a chance to show their individual support for people outside the wealthy congregation. He believes it is part of the community's ethics, and is just as important as community life.

"No one is called on as an individual (to donate), everyone has to volunteer and do it on their own," he says, stressing the importance of giving from personal commitment.

At one time, he recalls, a non-profit organization came to the synagogue and raised over $70,000 in a night, but is adamant that "the important thing is that (the community members) did it on their own because it touched their heart."

In the synagogues standards, the amount is small, even for one weekend.

On July 5, 2014, the first day of Israel's most recent conflict with Hamas, the different members bought $10.5 million in Israel bonds in a day. "It was the largest purchase by a synagogue community in the history of Israel bonds in the US," Schneier says proudly.

Several weeks later, they raised $1 million in cash in 20 minutes, all dedicated to the UJA-Federation of New York's Israel Emergency Fund - which Levin heads.

"People were fighting to get called on so they could donate," Levin says, estimating that $1.2 million was raised in 15 minutes. "We were raising money on Shabbat so we couldn't write anything down, but we all know each other and people really wanted to do it. It was an amazing experience."

And that's without mentioning the scores of ambulances and motorcycles given to Israeli rescue services, or countless other "smaller" donations the community has made over the years.

"We see ourselves as a platform to be a great support to Israel, to charities, and I think that's very unique in terms of synagogues and our orientation," Schneier says. Indeed, it almost seems as if the community is like a pro-Israel endowment machine.

"It's millions of millions to hospitals and universities. Don't ask," he says when quizzed on the overall sum of donations over the years.

The congregation is a who's who of donors: Levin heads the Jewish Federation that holds the title of biggest single donation to a Jewish organization, businesswoman and philanthropist Marcia Riklis is among its benefactors, and Kaylie himself is a substantial donor.

It's also an occasional who's who of politicians - Hillary Clinton has made an appearance, as has Joe Lieberman and even Ted Cruz.
Bipartisan Judaism
Though fanatically bipartisan, the synagogue and its congregants have no fear in dabbling in politics. In addition to hosting a slew of Israeli politicians, Levin recalls an instance in which the synagogue might have even swung an election.

In one of the weekly meetings in June 2014, the congregation heard from Lee Zeldin, then a Republican state senator trying to oust an incumbent Democrat congressmen.

Backed and introduced by Eric Cantor, Zeldin addressed up to 300 members of a predominantly Democratic community - not necessarily an easy crowd. A number of weeks after the meet, Zeldin carried New York's 1st Congressional district - where the Hamptons are located - becoming the only Jewish Republican representative in Congress.

Levin, like Kaylie, stresses that the members of the community act as individuals, saying that is part of the community's appeal. Schneier indeed prides himself on being generally liberal, but that doesn't stop a self-identified conservative like Levin from praying in the synagogue or working alongside the rabbi.

Quite the opposite, Levin has nothing but praise for Schneier. He describes the rabbi as a unifying force in the fragmented US Jewish community, despite what some describe as "controversial" work with Muslims. For Levin this further attests to the welcoming and open nature of the community as much as to its dedication to Israel.

In this sense, the community might be one of the last truly influential bastions of bipartisan support for Israel at a time when Jerusalem and the White House are increasingly divided along partisan lines.
Herzliya: The next step
On the eve of its 25th year, the synagogue and its always energized rabbi are looking forward and outward: To Herzliya Pituah - the super-rich suburb of the already wealthy city of Herzliya - where the rabbi now hopes to recreate his Hampton's success.

"I want them to own a part of Israel... to be invested in Israel," Schneier says, explaining his aptly named Hamptons in Herzliya Pituach development, a sprawling 34-unit seaside complex.

The project is part of a larger development being built by the Ofer Brothers Group and available for purchase by all interested through by real estate brokers The Promised Land and Shelly Levine of Tivuk Shelly. It will comprise eight buildings located some 500 meters from the beach; work is expected to finish within three years.

The attempt is to recreate a community of rich, Israel-dedicated Americans. According to the rabbi, "There is no better way to show your commitment to Israel than be the owner of a peice of Israel."

The goal of this "sister community" is not aliyah - always a sensitive issue with affluent US Jews reluctant to leave the US - but reinforcing their connection to Israel by financial bonds.

"It will force them to come to Israel, spend more time in Israel with their kids and their grandchildren. It reinforces their Jewish identity, and a very important investment both economically and from a Zionist perspective," he says.

Schneier, who divides his time between the Hamptons, New York City and Palm Beach, is not sure if he will move in, but is expected to have a unit of his own in the complex - at a discount of course.

The project, which some have already labeled as "Hamptons-style Zionism," is the logical culmination of everything the Hamptons Synagogue symbolizes: Part Zionism, part capitalism, and a lot of Marc Schneier. This can be said to be Schneier's true genius: His ability to tie personal success to a larger communal cause, be it him and his synagogue, or the congregation and Israel.