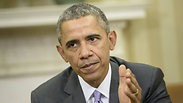 US President Barack Obama
Photo: Reuters
Obama: Netanyahu 'misjudged' in demanding Iran recognize Israel as part of nuclear deal
US president rejects Netanyahu's demand for final deal with Iran, says it is 'akin to saying that we won't sign a deal unless the nature of the Iranian regime completely transforms'; White House spokesman says former Mossad chief voiced same opinion.
WASHINGTON – US President Barack Obama on Monday rejected Prime Minister Benjamin Netanyahu's demand that a nuclear deal between world powers and Iran would be conditoned on Tehran's recognition of Israel.
Obama's comments came a day after he told New York Times in an interview that he is "absolutely committed" to Israel's security, stressing that the United States had "got their backs".
"The notion that we would condition Iran not getting nuclear weapons in a verifiable deal on Iran recognizing Israel is really akin to saying that we won't sign a deal unless the nature of the Iranian regime completely transforms," Obama said in an interview with National Public Radio (NPR).
"That is, I think, a fundamental misjudgment," he said.
He continued by saying: "I want to return to this point: We want Iran not to have nuclear weapons precisely because we can't bank on the nature of the regime changing. That's exactly why we don't want to have nuclear weapons. If suddenly Iran transformed itself to Germany or Sweden or France then there would be a different set of conversations about their nuclear infrastructure."
White House spokesman Josh Earnest wrote on Twitter that the claims made by Obama were similar to those made by former Mossad chief Efraim Halevy in an op-ed article for Ynetnews Monday. "POTUS tells @nprnews conditioning Iran deal on recognition of Israel is a "misjudgment"; fmr Mossad chief says same," Earnest wrote, adding a link to the article.
Israeli officials oppose the framework agreement reached last week between US-led international negotiators and Iran. Israeli Prime Minister Benjamin Netanyahu says Iran has vowed to annihilate his country, and no deal should be struck until Iran recognizes Israel's right to exist.
In a round of interviews to the American media on Sunday, Netanyahu urged the United States to seek a better deal to curb Iran's nuclear program and said he would press American lawmakers not give Tehran "a free path to the bomb."
"I think the alternatives are not either this bad deal or war," Netanyahu said on CNN's "State of the Union" on Sunday.
"I think there's a third alternative - that is standing firm, ratcheting up the pressure until you get a better deal. And a better deal would roll back Iran's vast nuclear infrastructure, require Iran to stop its aggression in the region and its terror worldwide, and its calls and actions to annihilate the state of Israel," he said.
State Department Spokesperson Marie Harf responded Monday to the criticism issued by Benjamin Netanyahu against the framework agreement, saying that Netanyahu "said that Iran would not dismantle any of its centrifuges; but under the JCPA, Iran will physically remove about 13,000 centrifuges from where they stand today in Iran's nuclear facilities."
"All of the pipework that connects these centrifuges to actually enriched uranium – they have to be connected in order to enrich – will be dismantled and also removed. This dismantling will ensure that these centrifuges cannot be brought back online for a long time."
The White House is working aggressively to convince US lawmakers and other critics to embrace the framework agreement reached on Thursday between Iran, the United States and five other major powers.
The framework was a major step toward a final deal but did not include an agreement on the timing and scope of sanctions relief. Many other issues also must be hammered out before the end-of-June deadline for a final accord.
Iran's negotiators have interpreted the outline differently, saying sanctions would be lifted immediately once an accord is signed.
Earnest said Washington would want to see sustained compliance by Iran first and Iran would be more likely to comply if it knew sanctions could be applied again.
US Energy Secretary Ernest Moniz said on Monday the differences in portrayals of the deal by both sides were not disputes over content but were related to what each side chose to emphasize.
"There's no doubt that right now there's a different narrative, but not in conflict with what's written down," Moniz said.
A key US ally, Saudi Arabia, sounded a note of caution on the agreement.
Adel al-Jubeir, the Saudi ambassador to Washington, told reporters the oil-rich kingdom wants to see more details on the restrictions on Iran's nuclear work, nuclear inspections, and when international sanctions on Tehran would be lifted.
News agencies contributed to this report.