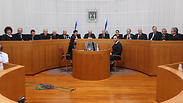 Supreme Court
Photo: Gil Yohanan
The Supreme Court has ruled that a muscular dystrophy sufferer who is paralyzed in all four limbs cannot raise the baby conceived using sperm and egg donors and carried by a surrogate mother.

In order to fulfill her dream of motherhood, 49-year-old Ora Mor Yosef decided to have a child through private donors. But a special panel of seven justices ruled that the child must be given up for adoption, partly in order to discourage others from following the same route.

Israel's official position is that it is strictly forbidden to have children based on a civil agreement, when there is no genetic connection between the newborn and the parent, and adoption cannot take place without official approval, as in the case of Mor Yosef.

While she has suffered from muscular atrophy from an early age, Mor Yosef, who is housebound and confined to a wheelchair or her bed, said during the court case that she was adamant the illness did not prevent her from leading an active and independent lifestyle, although carrying a child was incompatible with her condition.

Thus, she resorted to the services of a volunteer surrogate mother, an Israeli woman who conceived via artificial insemination performed in India using sperm donated by an Israeli man, and returned to Israel where she gave birth to a healthy girl.

The child was taken from the surrogate mother immediately upon birth by social services, and handed over to adoption services, without Mor Yosef ever seeing her.

The decision to prevent Mor Yosef from raising the child was made a few months ago, but the rationale for the ruling was only published last weekend.

The court ruled that choosing to "create" a child may lead to trafficking in children. The judges also rejected a request by Mor Yosef and her lawyers to approve parenting by agreement or parenting through a partnership to create a baby.

They emphasized, however, that Mor Yosef had no intention of trafficking in children and she acted out of a yearning to be a mother.

There was, however, one ray of light for the disabled population. Following a request from the Israel Association for the Disabled to allow Mor Yosef to become a mother, one of the judges made an unprecedented call for Knesset legislation to assist disabled people to become parents.