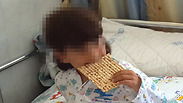 The boy munching on his new favorite food
Photo: Ziv Medical Center
A wounded Syrian boy hospitalized at the Ziv Medical Center in Safed got to taste matzo for the first time in his life this week - and loved it.

The 7-year-old boy, who suffered serious wounds to his legs from a shell hit seven months ago, enjoyed the matzo so much that he has been asking the hospital's staff to give him matzo to eat at every opportunity he gets.

Hospital staff told the boy and his mother about Passover and the holiday's meaning, and the two Syrians found parallels to their own situation in the story of Israel's exodus from Egypt.

In Syria, the boy underwent 17 operations under difficult conditions due to the constant fighting between the Syrian Army loyal to President Bashar Assad and rebels trying to oust him.

Syrian doctors told the boy's mother they have done all they could for him, and that he will not be able to walk again.

The mother insisted that more can be done for her son, and was able to make her way across the border into Israel two weeks ago with the help of relatives.

The boy underwent surgery at the Ziv Medical Center's Department of Orthopedics and three days ago, he started walking again with the help of a walker.

He was treated by Prof. Alexander Lerner, one of the foremost authorities in the field of severe war injuries treatment.