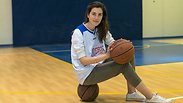 Founder of the Jerusalem 48ers Adi Zettori.
Photo: Ohad Zwigenberg
Some say basketball has become too complicated, with a plethora of numbers, tiring statistics and confusing terms. But for the Ethiopian children from the Jerusalem neighborhood of Talpiyot, who take part in a special basketball project, these terms are not important.

These kids do not yet know what a pick-and-roll is, nor do they know how to carry out transition defense - sometimes they forget to box-out for a rebound after a 1-3-1 defense. These kids are playing basketball. Plain and simple.

Only one basketball term exists for them: "Game changer."

The old concept that signifies a change at a critical moment in the game sounds different when it is said by the bright-green-eyed 22-year-old Adi Vettori.

The young woman is responsible for the creation of the "Jerusalem 48ers" – a basketball program created to help integrate Ethiopian youth into Israeli society.

Vettori created the program in order to combat the isolation and separation of the Ethiopian community in Israel, and the young woman believes that the mission can be accomplished with a simple orange ball.
Roots
A little more than three and a half years ago, Vettori, along with co-founder Ziv Hazan, was called into a meeting with Erez Eshel, the Director of the Education Ministry's Society and Youth Administration.

Eshel gave the two a mission – to create a social project funded by a donation given by a generous American Bar Mitzvah boy, who just happens to be the son of Josh Harris - the owner of the Philadelphia 76ers NBA team.

The 76ers got their name from the year the United States was founded (1776) and became the inspiration for the Jerusalem 48ers, whose name recognizes the year Israel was founded (1948).

Vettori, who grew up in Holon, understood the mission, but the journey from the conversation with Eshel to the now successful project was a long one that at times felt impossible.

"In the beginning, they laughed in my face," remembers Vettori with a smile. The young woman went from court to court in the neighborhood and tried to convince the local kids to play basketball.

"'It's a sport for white people,' they said to me. Even when they did agree to come, it did not really flow. There was minimal attendance and chronic tardiness. If we scheduled practice for 5pm, we maybe started at 6pm. They did not stick with it or take it seriously. They definitely did not know how to hold the ball or dribble," says Vetorri.

"Three years later, they play and score like champions, (even) against Hapoel Jerusalem," says Vetorri. The 48ers have played practice games against the Hapeol Jerusalem national youth team.

Why basketball?

The answer to this question can be found with the 48ers coach Eitan Ben Eliezer, who also coaches the Hapoel Jerusalem national youth team and has given birth to famous Israeli basketball players Adam Ariel (Hapoel Jerusalem) and Rafi Manco (Hapoel Gilboa/Galil).

"Why basketball? Because it is a lever that can advance the children at every level, not just the (basketball) industry. It provides them with the roots to success (and) attempts to integrate them into Israeli society," says Ben Eliezer.

"These are kids who do not succeed in other frameworks, mostly because they almost have no framework. Through the game they learn about commitment – something they did not understand beforehand. They learn to be with one another – mutual existence that exists on the court but also outside. They learn the concepts of modesty, humility, of not quitting when something does not work out."

The goal of the 48ers is not to create the next big Israeli basketball superstar. Instead, there is a clear mission to advance the youth to their maximum potential by giving them a slight push.

"Of all of our alumni," says Ben Eliezer, "there were two that seemed as though life was leading them to a different place. Because of their surroundings and the conditions.

"When they got here, they were not interested in basketball and especially not a framework. Today, they are alumni of the pre-army Service Year and served in elite IDF Units. We raise people here, not basketball players," says Ben-Eliezer.

The 48ers began as an idea that slowly developed into a hands-on project. It started with Vetorri and Hazan wandering the streets of the Talpiyot neighborhood looking for people to participate, and later Vetorri was dedicating the limited free time she had in the army to call participants to see how they were doing, organize trips, or find ways to help them with their studies.

"The goal is to develop this into a national project," says Vettori. "The vision is to lead a social change and raise leaders using the game. Our organization is just a tool. By 2020, we hope to raise 10 teams throughout Israel," she says.

As Vettori talks, the real magic happens behind her on the court. Uri (pseudonym) has a big smile on his face after receiving a round of applause from 40 other kids, all of whom live in the neighborhood, after scoring his first three-point shot. His technique was not amazing and his hand did not stay straight after he released the ball but, hey – it's his first three-pointer after playing for a month.

Uri, who comes from a difficult environment in which he grew up without a father, and who was punished for behavioral issues, left his house for the first time in order to attend the game. He is there because he promised to improve and make an effort - and because he loves the game.

"This team helps (us) focus and take the good path," he says. "Every Tuesday night I wait for Saturday night, and every Saturday night for Tuesday night – for the next basketball practice."

For Uri and the other kids from Talpiyot, it is now all about basketball.