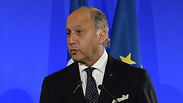 French Foreign Minister Fabius
Photo: AFP
The French government has seen a window of opportunity, following recent elections in Israel, to get the United States on board for a renewed effort towards an Israeli-Palestinian settlement, and is preparing a draft UN Security Council resolution.
The draft would define the pre-1967 borders as a reference point for talks but allow room for exchanges of territory, designate Jerusalem as the capital of both Israel and a Palestinian state and call for a fair solution for Palestinian refugees.
The French proposal also includes a requirement for Palestinian recognition of Israel as a "Jewish state," the Palestinian President Mahmoud Abbas informed the Executive Committee of the PLO. That recognition is an Israeli demand that Abbas has rejected in the past.
The French effort will be based on three steps: first French diplomats will present a draft resolution to the UN Security Council, a step which requires US acquiescence that it will not exercise its veto; second an international peace conference will be held; and the third step will be for France, along with other European allies, to recognize an independent Palestinian state built on the 1967 borders.
Abbas said at the PLO meeting: "We do not need more decisions that then fail to be implemented. It is known that we have 12 resolutions passed by the Security Council, including resolutions endorsed by America, but despite these calls for de-colonization no progress has been made." He went on to reiterate his refusal to recognize Israel as a "Jewish state."
Paris is working together with Washington in order to provide cover for new efforts to reach a peace agreement. The French are also seeking to raise support from their European neighbors and from Arab countries.
"While the substance of the French draft may not differ much from past failed efforts to revive Mideast peace talks, France is hoping this time to avoid a US veto at the UNSC because of increasing American frustration with Prime Minister Benjamin Netanyahu," Nabil Shaath, a senior official of the Fatah Central Committee, told The Media Line. Fatah is the Palestinian faction that controls the Palestinian Authority.
Shaath described a possible "backdoor" for negotiations presently and said "all actors, including the Americans, now realize that all other ways have been explored, without success."
After Netanyahu's election win and tough campaign comments against Palestinian statehood, the White House said it would re-evaluate its approach to the Israeli-Palestinian conflict. The French official praised the "pretty clear message sent by the Americans." The resolution would aim at presenting a framework for negotiations towards resolving the Israeli-Palestinian conflict.
Shaath said "France is working with the US to gain backing for the new peace effort. France is also seeking support from European and Arab partners". He declined "to provide more details on the possible sticking points in the negotiations. The weight of a Security Council resolution, which is legally binding, would add to international pressure on Israel."
Even if a new resolution were to avoid a US veto and win UN backing, its prospects are unclear. Israel remains opposed to returning to the pre-1967 borders and insists that any peace process should include recognition of a Jewish state.
"If we want to have a two-state solution, and if we want to avoid a complete crash, we must go in the same direction," the French foreign minister, Laurent Fabius, told reporters at the United Nations on Friday morning. "I hope the partners who were reluctant in the past will not be so in future."
Mr. Fabius declined to say how soon France would bring up a draft measure before the Council. Fabius said, "We shall work in that direction, yes — our aim is to be efficient." But he said France would consult with other Council members "in the coming days" over a framework for negotiations. Doing so is likely to put pressure on the White House to act.
The French government circulated a draft late in 2014 that would have laid out what are known as parameters for talks between the two sides in the Middle East conflict, and would have set a deadline for completing the talks. The Obama administration was reluctant to support that draft, especially with a general election in Israel approaching.
Shaath said the draft resolution will be based on previous international resolutions passed by Arab and European countries. He also said he expects that other major European powers, such as Britain, Germany, Spain and Italy, will join France in recognizing a state of Palestine, based on the 1967 borders, at the end of this diplomatic process.
The French draft decision is based on UN Resolution 181, published on November 29, 1947, which provided for the establishment of two separate states, one Jewish and one Arab, often called the partition plan. Israel accepted the deal which would have created an independent Palestinian state on 52 percent of historic Palestine. The current proposals which call for an independent state in the West Bank, Gaza Strip and East Jerusalem, would create a Palestinian state on 22 percent of the area.
Hale Fahoum, Palestinian ambassador to Paris, told The Media Line that the Palestinian Authority views the French move as positive but was waiting to see details of the final version before the Palestinians would give their full approval.
Fahoum said the French would use the pre-1967 borders as a framework to research a route for a new practical border, a border which could take into account changes for mutual land swaps. The French proposal also keeps the door open to discussions on "Jerusalem as the capital of two states," and calls for "a just solution" for Palestinian refugees.
Last year, the UNSC rejected a Palestinian resolution demanding an end to "Israeli occupation" within three years. The US opposed that draft, stating that Palestinian statehood can only be achieved through negotiations with Israel, not through an imposed timetable.
When asked how Palestinians would react if the US was to veto the proposal, Fahoum stated simply, "The Palestinian leadership has nothing left to lose."
Article written by Rafa Mismar.
Reprinted with permission from The Media Line