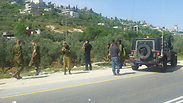 פיגוע דקירה סמוך ל שילה פצוע קשה
Photo: Tazpit News Agency
Two Israeli soldiers were stabbed Wednesday morning in an attack at the Sinjil junction, near the settlement of Shilo in the northern West Bank. One was seriously hurt and the second sustained light wounds. The Palestinian attacker was killed at the scene by the soldier who sustained lightly wounds.
The 20-year-old soldier in serious condition was stabbed in the neck in the attack, which occurred close to the settlement of Shilo. He received emergency treatment at the site before being evaucated to a Shaare Zedek Medical Center in Jerusalem.
Related articles:
Large numbers of security forces were searching the area in the wake of the attack.
Evacuation of the wounded (צילום: עפר מאיר, אלי מנדלבאום)
An initial investigation showed that the Palestinian assailant attacked two soldiers from a medical unit at the entrance to the village. It appears that the attack took place inside an ambulance.
The head of the trauma unit at Shaare Zedek, Dr. Ofer Marin, said: "The seriously wounded man arrived on a respirator and sedated, suffering stab wounds to his neck and head. He received blood transfusions in the trauma ward. Once he is stabilized, we will continue to assess the extent of his wounds, after which he will be taken for surgery. The second victim is suffering from stab wounds to the back that are not considered to be life-threatening."
"At 10:07, Magen David Adom's Jerusalem district received a message that a 20-year-old man had been stabbed on Route 60, close to the entrance to the Ma'ale Levona settlement. Medics and paramedics treated him at the site and evacuated him to a hospital in Jerusalem in serious condition with stab wounds to his upper body," said an MDA spokesman.
Bayit Yehudi leader Naftali Bennett praised the wounded soldier's quick response.
"This should be the fate of anyone who harms innocent Jews," he said. "This is how such a serious incident must end."
There have been a spate of terror attacks involving stabbings in Israel in recent months. This is the second stabbing attack in the West Bank in one week.
Last Thursday, a Palestinian stabbed Yoav Leitman, an IDF paratrooper, near to the Oranit checkpoint in the northern West Bank. The soldier was lightly hurt and the Palestinian quickly overpowered.
Itay Blumenthal, Roi Yanovsky and AP contributed to this item.