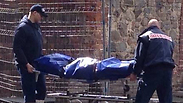 Removal of the body in Berlin
Photo: spreepicture
Israel's embassy in Germany confirmed Wednesday that a man found killed in the ruins of a Berlin church was an Israeli citizen.
The embassy said in a statement that its consul, Eyal Siso, had received confirmation of the man's identity. It declined to provide the victim's name.
Berlin police said the man was found by passersby in the early hours of Sunday with "massive injuries to his head." Three people have come forward with information in the case, police said without providing further details.
Investigators have begun searching for witnesses who may have seen anything suspicious in the area on Saturday night. .
A Berlin rabbi said Wednesday that the Israeli citizen had approached the Jewish community last week asking for food and a place to sleep.
Rabbi Yehuda Teichtal told The Associated Press that the Israeli was a "man in his early 20s who came to us during the day last Friday and didn't have a place to sleep and didn't have anything to eat."
Teichtal, who is a community rabbi in Berlin and also the head of the Chabad Jewish Education Center in the city, said a fellow rabbi arranged a place to sleep for the man at a community center near Alexanderplatz – less than a kilometer from where the victim was found Sunday morning.
"We arranged everything for him, but then he didn't show up again," Teichtal said.
Earlier Wednesday, German media outlets reported that police suspect a young Israeli man was murdered in Berlin during the Easter weekend.
The body was found with signs of severe violence, making it difficult to identify him, but a passport belonging to a 22-year-old Israeli was found in the jogging pants on the body.
The body was discovered in a ruined Franciscan monastery in the central Alexanderplatz district.
The Israeli embassy was immediately notified after the passport was discovered.
The monastery where the body was found is located next to the exit from a subway station, and the area is considered very central during the day. Many sections are fenced off.
Despite its past as the place from where the Nazis organized the Holocaust of Europe's Jews, the German capital has become a popular destination for Israeli tourists in recent years. Beyond that, some 20,000 to 30,000 mostly young Israelis have moved to Berlin in the past few years.
Attila Somfalvi contributed to this report.