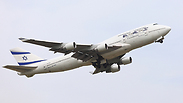 El Al: Cancelled flight
Photo: Shutterstock
A 48-hour strike by Paris air traffic controllers could pose problems for Israeli travelers heading for France in the coming days. Passengers look set to spend long hours at the airport only to discover that their flight has been canceled.

The strike was announced just as many Europeans were planning flights for the end of the Easter holidays, and is a cause for concern in many countries on the continent.

The strike is part of an ongoing struggle by the French union of air traffic controllers on a variety of issues, ranging from unacceptable working conditions to the pension and retirement age, which has been raised by two years for French air traffic controllers.

According to the union, the retirement age in France is now higher than that of their counterparts in the rest of Western Europe.

Israel's flagship airline, El Al, has already announced the cancellation of one of its flights to Paris, while Air France is merging flights. All affected passengers have been notified. The strike will affect Charles de Gaulle and Orly airports in Paris, as well as airports in Marseille, Nice and Toulouse.

The air traffic controllers' union is the largest in the French aviation industry and represents 41 percent of the country's 4,000 air traffic controllers.

According to the BBC, the union is planning further strikes for April 16-18 and April 29-May 2, which coincides with French school vacations.