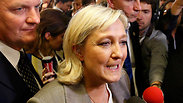 Marine Le Pen
Photo: Reuters
France's far-right was in disarray Wednesday after National Front leader Marine Le Pen openly split with her father and party founder after gas chamber comments she described as "political suicide."

Jean-Marie Le Pen, the outspoken 86-year-old founder of the FN party, has dominated headlines in recent days, repeating his view that Nazi gas chambers were a "detail of history" and defending war-time French leader Petain, who collaborated with Hitler's regime.

His latest sorties appear to have been the last straw for daughter Marine, who has been trying to clean up the party's anti-Semitic and racist image since she took over in 2011, a move that has seen it soar in opinion polls as it attracts more mainstream voters.

Related articles:
France: 'I am not Charlie,' Jean-Marie Le Pen says
Sarkozy denies far-right Le Pen victory in French polls


Jean-Marie Le Pen is veering between "political suicide" and "a scorched earth strategy", his daughter said in a statement.

"His status of honorary president does not allow him to take the National Front hostage, to make such crass provocations that appear aimed at harming me but which unfortunately hit the entire movement, its officials, candidates, members and voters very hard," she added.

Marine Le Pen said she would oppose his standing in regional elections in December in what deputy party leader Florian Philippot described as a "total and definitive" split between father and daughter.

Speaking of her "deep sadness", she said she would call a meeting of party top brass "to discuss with him how to best protect the political interests of the National Front."

Marine Le Pen has been forced several times to distance herself from her father, who has repeated his comments about gas chambers over three decades, earning himself convictions for hate speech along the way.

In 2011, she stressed her belief that the Nazi camps were the "height of barbarism" and has recently insisted she was in "complete disagreement" with her father, whom she has described as a "punk".

The family feud extends another generation to Marion Marechal Le Pen -- Jean-Marie's granddaughter -- a rising star in the FN, who attacked his gas chamber comments as a "useless provocation."
'Good cop, bad cop'
Since taking over from her father in 2011, Marine has led the party to a series of electoral successes, winning first place in last year's European elections.
An opinion poll published on Saturday suggested that nearly a quarter of French people would vote for the FN in the 2017 presidential election.
French Prime Minister Manuel Valls has admitted he is "scared for the country", fearing French voters could elect Marine Le Pen to the Elysee Palace.
Valls warned that the party is at the "gates of power" and said its anti-EU, anti-immigration and anti-euro policies would be a "disaster" for France.
However, in last month's departmental elections, the FN failed to win a single region, despite performing strongly in the first round of voting.
Political scientist and FN specialist Virginie Martin told AFP that Marine's latest move could benefit the party's standing in the polls.
Jean-Marie is "a historic figure who always amuses the crowd and... appeals to the historic, hard-line wing of the FN," she noted.
"But at the same time, they're never going to lose that part of the electorate. What's the risk of cutting off Le Pen? You might lose one or two percent but you might gain five or six."
"Think of the section of the (center-right) opposition UMP that are disenchanted by traditional political parties... for them, the barrier presented by Le Pen has disappeared."
Some observers suspect a deliberate strategy in such public feuds: Jean-Marie Le Pen provokes with shocking statements which allow his daughter to slap him down and appear more mainstream.
"In the FN, everyone has a role," the Journal de la Haute-Marne regional daily wrote in a recent editorial.
"Jean-Marie plays the evil role, Marine plays the 'normal' presidential role. The former leader of the party takes a cunning pleasure in shocking to give his daughter the leisure to take offence and break, to a certain extent, with the FN's inflammatory past."
But Martin said she "wasn't sure there was a deliberate 'Good cop, Bad cop' policy."