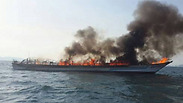 Fire on ferry off the coast of Thailand which resulted in death of Israeli girl.
A 12-year-old Israeli girl was the sole casualty of a fire that engulfed a ferry traveling in the Andaman Sea off the coast of Thailand on Wednesday.

The girl seemed to have been locked in a bathroom when the fire erupted near the engines of the ferry.

The young Israeli girl was reportedly on a trip to celebrate her Bat Mitzvah along with her parents and two other siblings who survived the fire.

The Israeli Embassy in Thailand was looking into the details of the incident on Wednesday and a Chabad representative was sent to aid the family of the deceased girl at a hospital in Krabi.

"We will try to help them as much as possible, in order to transfer the body as fast as possible to Israel. We came to be with them, to be the Israeli representation that could give them a hug and be with them during this extremely difficult time," said the Chabad representative to Phuket Eliezer Ashkenazi.

There were a total of 104 people on the ferry at the time of the fire and 103 people, including many foreign tourists, have been rescued.

Police Col. Sompong Thip-apakul said the accident occurred on the Ao Nang Princess 5 ferry traveling from Krabi to Phuket, two of Thailand's most popular beach resort areas.

The Israeli girl was at first thought to have been rescued by another boat that was going to Phuket, but it was later found that she had died in the bathroom of the ferry.

The incident took place at around 3:30 pm Thailand time, and according to reports the fire started at the stern of the ship, where the bathrooms are located. The captain of the ship said he told passengers to put on life vests and jump into the water. The ship then sank within minutes.

One of the passengers on the ferry said that the crew told him, his wife and their son that there was a fire and that they should all gather at the ship's bow. "The fire then grew stronger," said the passenger. "Everyone was in a panic. Some cried. We handed out the life jackets and jumped into the water."

Most of the rescued passengers and crew were taken to Krabi, several miles from where the fire occurred.

Thailand's tourism industry has suffered recently from domestic political violence and several high-profile killings and unexplained deaths of Westerners, but serious marine accidents are uncommon.

The Associated Press contributed to this report.