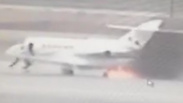 Plane that caught fire
Photo: Israel Airports Authority
A small plane erupted into flames before takeoff at the Ben Gurion International Airport on Wednesday. The plane was scheduled to take off for Russia at noon. The six passengers aboard the aircraft escaped without injuries.
Firefighters in the Ben-Gurion Airport Firefighting Services quickly took control of the blaze.
Video footage of the incident shows the passengers leaping from the plane and running to safety. During the incident, the airport ground crew declared a State of Emergency Level 3, the highest possible level. Rescue forces including security vehicles, ambulances and airport fire trucks quickly arrived on the scene.
Passengers flee burning plane at Ben Gurion Airport (צילום: רשות שדות התעופה )
Shmuel Zakai, the Director of Ben Gurion International Airport, praised the rescue forces: "I commend the conduct of the pilot, the air traffic controllers and in particular the work of the firefighters at Ben-Gurion Airport whose quick response prevented the fire from spreading and prevented danger to the passengers and aircraft."