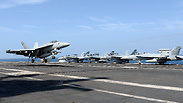 Aircraft lands on USS Theodor Roosevelt during visit of IDF officers.
Seven Israeli IDF officers were given a special tour of the USS Theodor Roosevelt (CVN-71), a four-acre long aircraft carrier, while it was stationed of the coast of Sicily.

The group of officers, led by Chief of Operations Major General Yoav Har-Even, visited the US aircraft carrier last week in order to observe and hold discussions with the US Navy.

IDF officers visit USS Theodor Roosevelt.

During the visit, the officers observed air and sea operations and learned about the activities of fighter pilots and the naval task force on the aircraft carrier.

The visit included a closer look at takeoff and landing routes on deck, a display of aerial refueling, search and rescue, aircraft hangars, command and control centers, the ship's bridge and the control tower.

The purpose of the visit was to demonstrate the capabilities and firepower of the aircraft carrier and its task force as well as deepen cooperation and operational coordination between the US army and the IDF.

The IDF officers were hosted by the ship's captain, Captain Daniel Grieco, and the commander of the naval task force Admiral Andrew Lewis.

The USS Theodor Roosevelt was launched in 1984 and saw its first action during Operation Desert Storm in 1991. The Roosevelt, known as the "Big Stick" within the navy, is the Navy's fourth Nimitz-class aircraft carrier. The carrier's radio call sign is Rough Rider - the name of President Theodor Roosevelt's volunteer cavalry unit during the Spanish-American War.