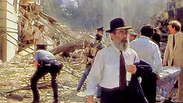 Aftermath of 1992 bombing at Israel embassy in Buenos Aires.
Photo: Avi Peretz
President Cristina Fernandez signed a decree Thursday that ordered the declassification of documents part of the investigation into the 1992 attack on the Israeli embassy in Buenos Aires.
The bombing of the embassy killed 29 people, including four Israelis who worked in the Foreign Ministry and four Jewish women. More than 220 other people were injured in the attack.
The investigation into the attack ended 16 years ago after the court accepted Hezbollah's claim that they were behind the attack. Nobody was prosecuted for involvement in the attack.
An arrest warrant was issued for Hezbollah's operations officer Imad Mughniyeh for carrying out the attack. Mughniyeh was mysteriously killed nine years later in a bombing in Damascus that was attributed to the Israeli Mossad.
Mughniyeh is also considered to be the perpertrator of the 1994 attack on the AMIA Jewish community center in Buenos Aires, which killed 82 people. The attack made headlines recently after allegations made by Argentine prosecutor Alberto Nisman that President Fernandez and other high-ranking Argentine officials had worked to cover-up Iran's involvement in the attack.
Nisman was found dead in his home under mysterious circumstances in January.
The families of the victims of the attack have long pushed for the publication of the documents in Argentina and the Argentine Supreme Court finally turned to President Fernandez to sign the decree to publish the reports.
According to a government statement published in the newspaper, the documents will first be examined by the country's intelligence agencies and then published to the general public.