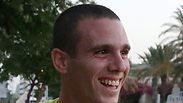 Company Commander Captain Shir Klevner.
Photo: Shaul Golan
The operational company commander serving in the Givati Brigade, Captain Shir Klevner, 25-years-old from Tel Aviv, gave new meaning to what it means to be a personal role model.

For the first time since his leg was shattered from a bullet of a Palestinian sniper during Operation Protective Edge eight months ago, he walked 10 kilometers at the firing ranges of Kibbutz Tze'elim in the Negev in a simulated training session that resembled renewed fighting within the Strip.

Shir surprised more than a few people in his unit when he returned to his unit which he was forced to leave because of his wound during the summer war.

After an intensive recovery period at the Sheba Medical Center, Shir's participation at the training session at Tze'elim, which was aimed to resemble fighting against Hamas in the northern Gaza Strip, almost had some forget the fact that up until a few months ago he was limping from one physical therapy session to the next.

Shir arrived in the south for the training session with his subordinate officers straight from Mount Hermon in the north, where he is stationed near the side of the mountain that borders with Lebanon – an area he has been in charge of since he returned to active service.

"I need to be monitored, keep getting shots and treatments for the scar and the wound that remains, but I still do sports with the officers. My mind is very strong and I hope it will be stronger than my legs," says Shir.

"I haven't walked such a long distance up until this training session and even had all the equipment. It was wonderful. I did not feel any pain – I felt strong. There is pain sometimes, but it's okay, I can get by," says Shir.

Earlier this week, on the eve of the first night of Passover, Shir drove out to one of his soldier's homes to deliver a washing machine. The soldier had requested financial aid.

During the training session, Shir led his officers between the dunes, his fast walking pace did not hint at what he had gone through since being wounded.

The smiling company command from the Givati Brigade understood from the beginning of his story that he could help increase motivation and sometime he tells his story to the younger soldiers in his unit – sometimes in personal conversations.

Shir is not the only soldier in his unit who returned to active duty after being wounded during the summer war. Another soldier, Rotem, who was also wounded by a sniper, recovered and returned to serve as a fighter.

"People ask me if I was scared when it happened to me, with the pain. I say that the doctors told me that I was able to recover because I was so full of motivation. It was an integral part of the treatment," says Shir. "In the field I do not leave for all of the treatments because of the missions. I tell the soldiers that you have to take everything with proportion and what we do it bigger from what a soldier perceives.

"I told the soldiers that the entire nation is standing behind you always, because when you are alone at a guard post at the northern border, you do not think it is like it was in Gaza. When you think about it, it connects you to something bigger," says Shir.

"During the fighting, all the focus was on us, we want out to do the most moral thing there is – to protect the nation when there are rockets and mortal shells above your head. In the north, it is felt less. Therefore, sometimes we pause in the middle of the day and these conversations help us keep the spark in the eyes of soldiers," says Shir.

Shir's recovery began with plastic treatments at the Sheba Medical Center. Because of the deep wound he sustained, some of the plastic parts are bigger than his leg.

Shir had wanted to swim as part of his recovery but was told he could not do so because of the depth of the wound. Instead, he found another way to pass the time by and recover – with video consoles.

"I played a lot with Wii while standing. In the beginning, I was able to do it for two minutes and with time I was able to for longer. It helped me return and learned things that I did not even know I forgot. After you are inactive for so long, it is hard to stand and keep balance," he says.

Shir will soon finish his role as a company commander and will go on to study electrical engineering for his undergraduate degree – part of a military plan in which he will return to serve as a deputy battalion commander.

"My family knows me well and knows who they are dealing with, so they don't even get into it…as long as a I feel as though it is a higher calling and as long as I exhaust myself – I will continue to contribute," says Shir.