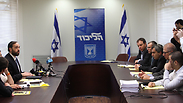 Coalition talks (Archive)
Photo: Gil Yohanan
Official coalition negotiations will resume Sunday after taking a break over the Passover holiday, with representatives from Prime Minister Benjamin Netanyahu's Likud party working to pull the negotiations out of the rut they're stuck in ahead of the first deadline to forming the new government on April 22.

During Chol HaMoed, coalition talks continued "on the down low," faltering over a crisis in talks with Bayit Yehudi chairman Naftali Bennett over which ministry he will get and disagreements with Kulanu chairman Moshe Kahlon on the authorities his party will have in the government and in the coalition.

The two ultra-Orthodox parties - Shas and United Torah Judaism - are the closest to reaching an agreement to join the government. Shas leader Aryeh Deri is expected to return to the Interior Ministry, while UTJ leader Yaakov Litzman is expected to return to his job as the deputy health minister. UTJ's Moshe Gafni is expected to once again head the Finance Committee.

The Likud will meet with United Torah Judaism's negotiating team on Sunday and with Shas and Bayit Yehudi's teams on Monday.

Prime Minister Netanyahu will likely also hold personal meetings with party leaders in an attempt to hurry negotiations along and resolve crises and disagreements, mostly on the issue of portfolios.

A Likud official said on Saturday night it is unlikely the government will be formed by April 22, the end of the first deadline given to Netanyahu by President Reuven Rivlin, and that the prime minister will have to ask the president for a 14-day extension.

Likud officials believe coalition talks are not progressing, saying the issue of which ministries each party receives has not been discussed so far.

"You can't move forward in coalition talks and you can't solve the disputes without discussing portfolios," a member of the Likud's negotiating team said.

In light of the disagreements and disputes between the right-wing parties and reports on a possibility to form a unity government with the Zionist Union and without Bayit Yehudi, Likud officials threatened that if the natural partners continue raising obstacles - Netanyahu will not hesitate to turn to Zionist Union leader Isaac Herzog.

"If we can't move forward with forming a right-wing government - a unity government is an option," the Likud officials said.