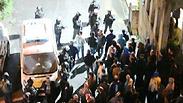 Clashes in Kafr Kanna overnight Sunday
Photo: Anwar Amara
A general strike was declared Monday in Kafr Kanna following riots that broke out overnight after security forces demolished a home in the Arab town built without the required construction permit. Six residents, including the head of the town's local council Mujahed Awawdeh, were lightly hurt in clashes with the police.
Overnight Sunday, police forces and Border Police officers sealed off the neighborhood and evacuated the home of Tariq Al-Khatib, a resident of the town. Following the evacuation, family members who were at the scene told the officers: "You destroyed the home, and we will rebuild it."
Police forces in Kafr Kanna
Khatib said in response to the incident: "I built on land that I inherited. The state has no right to demolish the home, and even if they destroy it 100 times, I will rebuild it."
He further said: "Where else can we live? We have no roof over our heads. Instead of helping the Arab citizens, the country is trying to drive us out."
During the demolition, dozens of residents gathered at the scene and tried to prevent it from taking place: "Allahu Akbar," they shouted, calling the police forces "terrorists".
Violent riots broke out between the two sides. The police used tear gas, stun grenades and rubber bullets to disperse the rioters. Six protestors were hurt as a result of the clashes.
Following the demolition, a general strike was declared. The Nazareth police said they were ready for any disruption of order. Security forces are currently stationed at the entrance of the town in order to prevent the blocking of roads.