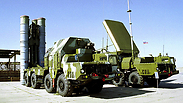 S-300 missile defense system
Photo: AP
MOSCOW -- President Vladimir Putin on Monday lifted the ban on Russia's delivery of a sophisticated air defense missile system to Iran, the Kremlin said.

Russia signed the $800 million contract to sell Iran the S-300 missile system in 2007, but later suspended their delivery because of strong objections from the United States and Israel.

Iran filed a lawsuit with a court in Geneva seeking $4 billion in damages for breach of contract, but the court has not issued a ruling.

Russia's Defense Ministry will be ready to swiftly deliver the S-300 if it gets the green light to do so, Interfax news agency quoted an official at the ministry as saying Monday.

Related articles:

Russia has insisted that its decision in 2010 to freeze the S-300 delivery was based on the sanctions the United Nations Security Council imposed on Iran over its nuclear program.

Iran reached a framework deal with world powers this month that is intended to significantly restrict its ability to produce nuclear weapons while giving it relief from international sanctions. The agreement is supposed to be finalized by June 30.

There is no firm agreement on how or when to lift the sanctions.

Meanwhile, the Wall Street Journal has reported that US is expanding its intervention in the current Yemen crisis to stop Iranian weapons from reaching Houthi rebels who have seized swathes of the country.

According to the report, US troops aboard the USS Sterett boarded a Panamanian freighter suspected of delivering Iranian weapons to Houthi rebels in Yemen.

American and Saudi officials have accused Iran of providing weapons, funding and training for the Houthi rebels for years, according to the Journal. Iran has denied the claims.
'Barter scheme'
Russian Deputy Foreign Minister Sergei Ryabkov said on Monday that Moscow has started supplying grains, equipment and construction materials to Iran in exchange for crude oil under a barter deal,
Russia has been an ally of Iran in international talks over Tehran's nuclear program that have led to an interim deal under which Iran would curb the programme and allow international control in exchange for ending economic sanctions.
Russia hopes to benefit from any such move if the preliminary nuclear agreement is followed by a technical one as planned by the end of June and has already moved ahead with an oil-for-goods swap.
"I wanted to draw your attention to the rolling out of the oil-for-goods deal, which is on a very significant scale," Ryabkov told Russian senators.
Reuters contributed to this story