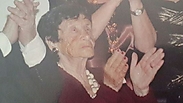 Chaya Gertman
Photo: Red Camera Studio
She was a childless Holocaust survivor. Experiments she underwent at Auschwitz prevented her from having children, and she lost her entire family at the hands of the Nazis. But when Chaya Gertman died Sunday at the age of 92, she was honored by hundreds of Israelis who had never met her.

An announcement of her passing on Whatsapp quickly spread to the social networks, and in just a few hours some four hundred people arrived at the cemetery in Holon to pay their final respects to the Holocaust survivor. three days before Israel's Holocaust Remembrance Day.

The person behind the drive was Sarit Cohen-Toledo, whose own mother Tikva adopted Chaya as her "second mother", and who Sarit knew from the day she was born as "Grandma Chaya".

"Yesterday, my mother got a call from the hospital, and they told us to come at once and we immediately understood," says Toledo-Cohen, 34.

"After the identification of the body, we had a pressing concern - that there would be enough people to say Kaddish (the Jewish prayer for the dead). We posted the announcement with the help of a girl named Amber Siman-Tov, and it changed everything.

"It's unbelievable how many people came. I don't know how to thank them, and want to use this platform to say thank you again and again to everyone who came out. You do not know how much she deserved it."

An emotional Toledo-Cohen paid tribute to the people who attended the funeral.

"In these little things we see the unity of our people," she says. "You're in need? Everyone comes, full of devotion and endless generosity. Everyone came to escort her. And they were all her children, without knowing her."

Sarit says Chaya would not allow her own tragic story to spoil festive occasions for others.

"Even though we were closest to her, she never wanted to join us for the Jewish holidays," she says. "She would say: 'I suffered and I don't want to make anyone sad over my tears.' Because she would cry at the holidays."

And the outpouring of sympathy does not end with the funeral. Toledo-Cohen says that among the hundreds who attended the service were many who pledged to say Kaddish for Chaya every year.

"All the way home, my mother and I could not believe it," says Toledo-Cohen. "How much she was honored - and how deserved it was."