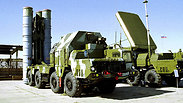 S-300 missile system
Photo: AP
MOSCOW - The Kremlin confirmed on Tuesday that an oil-for-goods barter deal between Russia and Iran was being implemented and said all legal barriers had been removed to Moscow supplying S-300 missile systems to Tehran.

Kremlin spokesman Dmitry Peskov declined to give any details of the barter deal. But asked whether a senior Foreign Ministry official was correct when he said on Monday that the exchange had begun, Peskov told reporters: "Absolutely. Of course."

Peskov also said no legal barriers remained to supplying the advanced Russian air defence system S-300 to Iran after President Vladimir Putin signed a decree on Monday lifting a ban on such deliveries.

"One the whole you can say one thing - from the juridical point of view there are no longer any constraints (on deliveries) now that the decree has been signed," Peskov said in a conference call with reporters.

Iran had responded to Putin's ban on the delivery of arms by filing a lawsuit with a court in Geneva seeking $4 billion in damages for breach of contract.

Ali Shamkhani, who heads Iran's Supreme National Security Council, said on Tuesday in Moscow that the lawsuit will be withdrawn only after delivery of the S-300s, which he hoped would happen by the end of the year.

Related stories:

His Russian counterpart, Nikolai Patrushev, said delivery would take time. "It will depend on our manufacturers," he told the Interfax news agency. "I believe they will need at least six months to complete this work."

Patrushev was more cautious than Putin's spokesman, who said Monday that the missile system could be shipped to Iran at any moment.

Russia signed the $800 million contract to sell Iran the S-300 missile system in 2007, but suspended delivery three years later because of strong objections from the United States and Israel.

The preliminary agreement on settling the Iranian nuclear standoff struck earlier this month made the ban unnecessary, Russian Foreign Minister Sergey Lavrov said in a televised statement.

Iran and six world powers, including Russia, reached an interim deal with Iran this month on curbing its nuclear program. They have until June 30 to work out a detailed agreement under which Tehran would allow international control in exchange for a lifting of economic sanctions.

"This deal is a direct result of the framework agreement reached in Lausanne. We've warned against the framework deal even before details were agreed upon," Defense Minister Moshe Ya'alon said Tuesday. "At the same time, the Iranians continue arming our neighbors."

Sources told Reuters more than a year ago that a barter deal worth up to $20 billion was being discussed with Tehran and would involve Russia buying up to 500,000 barrels of Iranian oil a day in exchange for Russian equipment and goods.

Officials from the two countries have issued contradictory statements since then on whether a barter deal has been signed, but Deputy Foreign Minister Sergei Ryabkov said on Monday one was already being implemented.

The Associated Press and Yoav Zitun contributed to this report.