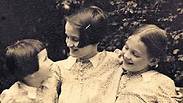 Miriam and her sisters Esther and Hannah
Letters from a war that ended a happy childhood
Miriam Cohen Zeligman immigrated to Netherlands on eve of World War II, while her parents remained in Berlin until a death train took them to Auschwitz. Over 70 years later, Miriam's daughter found letters sent to her mother by grandparents she never knew.
Miriam Cohen Zeligman kept her packet of letters hidden away for years. Her children knew nothing of their content, and she never thought to delve into the past she had fled from since the end of World War II.
A few years before her death, however, her daughter, Ronit Breslauer, 62, asked her to translate one of the letters. One letter led to the next; and before long, Ronit uncovered a rich correspondence between Miriam, who emigrated to the Netherlands before the war, and her parents, who remained in Berlin until the death train took them to Auschwitz in 1943.
"When I found the letters, I passed them on to the Ghetto Fighters' House for translation," Ronit recalls. "My mother died a few days after the book containing the letters was printed, and she didn't even get to see it."
Miriam Cohen left her parents and moved to the Netherlands on the eve of World War II, on August 31, 1939; and from that same day, and until her parents died in the Holocaust, she made a point of corresponding with them on a regular basis.
"She received an emigration permit (from the Germans) so she could get Zionist education in the Netherlands," Ronit said. "During those times, you had to show you have a place willing to take you in order to emigrate from Germany. Her younger sister, Hannah, was sent in a Kindertransport to England and made aliyah to the land of Israel before the end of the war. But their parents, Fritz (Shlomo) and Arna, and older sister Esther, did not receive a permit and stayed in Berlin until the very end."
Written very beautifully
"Dear Mirilein!" Miriam's father wrote to her shortly after her departure for the Netherlands. "While I write these lines, you must still be on your journey and nearing the Dutch border, or perhaps you have already crossed it. I hope the train stops at a place from which you won't have to walk very far… We hope to the Almighty that the path we decided on together will be the best one for you… Regards and kisses, yours, Father."
"The letters are written very beautifully," Ronit says. "They must have been censored, but they are written with a lot of sensitivity. They don't tell of what was really happening there because the Germans kept an eye on what was written. They knew they couldn't write about the horrible things they were experiencing, but you do get a sense of the horror here and there. They write that they don't have many acquaintances left, that they were forced to leave and move apartments, that other people have moved in with them, and that they can no longer get matzo for Passover."
Did they understand what was to happen to them?
"No, they understood they were being sent to the east, but they didn't know how bad it was, and certainly not that there are extermination camps there."
In October 1942, Miriam's older sister, Esther, was sent to Riga, where she met her death. "My darling Mirilein," Miriam's father wrote on October 27, 1942, describing Esther's departure. "We received a detailed letter from you, and it was a source of joy in a week filled with sorrow and tough decisions. What I hinted at about Esther has come to be; she's no longer with us.
"We faced a difficult decision about joining Esther, although it may not have been possible at all. Our doubts were due mainly to mother's poor health and physical condition. This may have meant that they wouldn't have allowed us to stay together. Because Esther was probably hoping that it would be possible nevertheless, it made the decision even harder.
"Since making the decision, we've had no peace of mind. Now we have to see how we can deal with the new situation. We will certainly miss her very much, in the loneliness that already surrounds us. May God grant her sufficient health to handle the new circumstances.
"We finally got word about Hannah (the youngest daughter who was sent to England) from Alice Levkowitz. She seems happy. She talks about working in the vegetable garden, growing potatoes, about the lessons they have and hikes in the beautiful surroundings."
A different meaning
Before finding the letters, Ronit knew very little about her family's past. She had visited Berlin several times, but the visits took on a different meaning only after reading the first letter.
"It's hard to describe being exposed to the content of the letters," Ronit says. "I was suddenly exposed to emotions and traits I wasn't aware of. I felt like I knew the people. While the letters were being translated, I took a train to Berlin and went to their house at Niebuhrstrasse 72, and I saw their names in the special commemorative plaques on the street. For a moment, I felt close to the grandfather and grandmother I never knew."
The letters end in 1943. Miriam, in hiding from the Nazis in the Netherlands, writes to her younger sister, Hannah, after their parents are sent to Auschwitz: "Dear Hannaleh, I was very pleased to get your letters. Too bad I hear from you so little. I can't picture what you look like, and if you have changed … Regrettably, there's been no word from our parents. We have to hope for the best and the help of God."