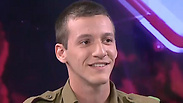 Sergeant Yonatan Handelsman
Photo: Avi Chai and Nir Cohen
Sergeant Yonatan Handelsman was in the seventh grade when he discovered a startling family secret – his mother's grandfather was a Nazi soldier. Now Handelsman, whose father's side of the family was mostly wiped out in the Holocaust, has made a film examining the meaning of this legacy.

Handelsman was working on the family tree project that is standard for seventh graders in Israel. When looking at his siblings' projects for information, he noticed there was nothing about his maternal great-grandfather. Intrigued by the lack of a name or even a picture, the boy turned to his mother for answers.

The mother, an immigrant from Germany, at first tried to avoid the subject. Handelsman insisted and she eventually revealed the identity of her grandfather, who fought for Nazi Germany.

In one sequence from Handelsman's film, his mother shares the difficult feelings caused by her family's past. "I felt guilt from a very young age," she says, "because I was born in Germany, and because around the age of fourteen I found out my grandfather was a Nazi."

Handelsman was shocked. "I didn't know what it might say about me," he said. "It was a little confusing."

The original purpose of the sergeant's film was to dig deeper into his great-grandfather's past, "but at some stage I realized that wasn't the issue here," he said. He decided he was not interested in his ancestor's actions.

He wanted to focus on helping his mother understand more about her identity and how the knowledge affects her to this day.

And while Handelsman does not tell just anyone about his family's Nazi connection, he is not ashamed of it. "At the end of the day, it doesn't matter… It doesn't affect me so much. What's done is done, and I'm who I am today."