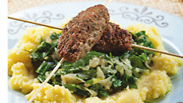 'Taste of Life' memorializes the sons and daughters who left too soon
Photo: Dina Kit
"It's a book born out of sorrow; but putting it together sparked memories and a smile. For us, it was a way to fill the kitchen with love," said Dina Kit, whose son, Sergeant Ofir Kit, was killed in Gaza in June 2001.
Dina was speaking on Monday at the launch of a cookbook, The Taste of Life, which contains 124 recipes collected over six years from the kitchens of 123 bereaved mothers and one bereaved father who selected their fallen sons' favorite dishes.
The launch event was attended by President Reuven Rivlin and his wife, Nechama, who received a copy of the book signed by the bereaved mothers involved in the project. "Taste buds appear to have a special way of touching our hearts," Nechama Rivlin said. "When a disaster occurs, food becomes a memory, an essence, a longing. The cake, the schnitzel , the salad, the fish, the meatballs – everything suddenly takes on a new meaning.
"Food is love. The tastes, the smells, the colors, the clatter of the plates and pots are the sounds of music of life. And choosing life isn't always easy. Society often expects you to withdraw into yourselves, to choose to be alone. The book, The Taste for Life, revives the memories. It's a book full of yearning, comfort and love – love that continues, that assumes a taste and form," the First Lady added.
"The connection between a mother and a child is special and profound," said Dina, who also lost a second son to illness. "The loss of my children is the loss of flavor to my life, the loss of my motherhood. Preparation of the dishes will be a worthy and moving memorial to our children."
According to Chantal Belzberg, executive vice-chairman of the OneFamily organization, which is distributing the book, "This is more than just a memorial book – it's a book of victory. The special aroma of your children's favorite dishes will now be present in every home in Israel."
Cheesecake - Roi Klein
Base:

1.5 cups of flour

5 tablespoons of sugar

100g soft margarine

One egg

Grated lemon rind

One teaspoon of vanilla essence

Filling:

500g of 9% fat cream cheese

One container of sour cream

One cup of sugar

1/3 cup of corn flour

1/3 cup of flour

One teaspoon of vanilla essence

5 separated large eggs

1/2 cup of sugar

Well-greased round 26cm baking tin

Base preparation:

1. Heat oven to 170 degrees Celsius.

2. In a large bowl, mix all the crust ingredients into a smooth dough.

3. Spread dough in baking tin and bake for about 10 minutes. Remove from oven and allow to cool.

Filling preparation:

1. In a large bowl, blend the cheese, sour cream, one cup of sugar, corn flour, flour, vanilla essence and egg yolks into a smooth mixture.

2. Whisk the egg whites with half a cup of sugar into a firm and stable mixture. Gently fold into the cheese mixture.

3. Pour filling onto the base and bake for 45 minutes, until golden.
Meat kebab on a bed of mashed potatoes and spinach - Ofir Kit
For 4-5 portions

For the kebab:

500g of ground beef

2 medium onions (finely chopped)

3 cloves of crushed garlic

3 tablespoons of chopped parsley

One teaspoon of salt

Black pepper

1/4 cup of frying oil

For the bed of potatoes and spinach:

4 medium potatoes (peeled and boiled)

Salt

One medium onion (chopped into strips)

1kg fresh spinach leaves (well washed and coarsely chopped)

Kebab preparation:

1. In a large bowl, mix all the kebab ingredients well and shape into 8cm-long oval shaped pieces.

2. Heat the oil in a large pan and fry kebabs on all sides until brown.

Mash preparation:

1. Mash the potatoes in a medium-sized bowl, adding salt for taste.

2. Fry onion until golden, add the chopped spinach leaves, and fry for a further five minutes or so.

Serving suggestion:

Arrange a bed of mashed potatoes on the plate, with the spinach and onion mixture in the center and the kebabs on top.