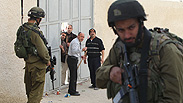 IDF troops operating in Nablus (Archive)
Photo: AFP
IDF, Shin Bet and Israel Police forces arrested 29 wanted Palestinians overnight Tuesday in the Nablus area.

In recent months, Hamas has increased its attempts to establish a terror infrastructure in the northern Samaria with orders and funding coming from its Gaza and Turkey commands.

Hundreds of IDF soldiers from the Nahal's reconnaissance battalion, the Golani Brigade's Battalion 12, the Duvdevan Unit and the Haredi Netzah Yehuda Battalion took part in the overnight raid.

Sources in Nablus said over 50 army vehicles raided the city around 2 am from several different entrances.

Arrests were made across Nablus, including in the Balata refugee camp right outside the city.

The IDF seized NIS 40,000, computers and cellphones from the home of one of the suspects.

The Shin Bet said among the arrested suspects were senior Hamas members and former prisoners who were involved in Hamas activity.