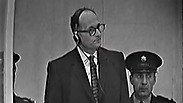 Eichmann during his trial
Rare documents from the Jerusalem trial of Holocaust architect and senior Nazi official Adolf Eichmann - including the order for his execution - were recently uncovered, when the Israeli Police Academy was putting together the displays for a new museum in Beit Shemesh.

The documents were from an investigation conducted by the police's Bureau 06, a unit formed for the sole purpose of preparing the evidence against Adolf Eichmann after he was captured and brought to Israel to stand trial for his crimes during the Holocaust.

Among the documents were the order of execution, a memo reporting Eichmann's ashes were scattered at sea, and a letter from August 1960 in which Eichmann asks to be allowed to correspond with his brother.

"The president rejected Eichmann's request for pardon," the execution order reads. "The death sentence will be carried out on June 1, 1962 at 00:01 at Ramleh's central prison."

Related stories:




"After the sentence was carried out, Adolf Eichmann's body was cremated at 04:35 over the deck of the Israel Police's coastguard boat. I scattered his ashes in the water outside Israel's borders," a memo on Eichmann's cremation read.

Previously unpublished photos from the trial were also uncovered, including one of Eichmann being led by police to a remand extension hearing.

Bureau 06 operation from the end of May 1960 until March 19, 1961, when the evidence collected against Eichmann was transferred to the State Prosecution.

Eichmann was captured by Mossad agents in Buenos Aires in 1960. He was smuggled into Israel and began to stand trial on April 11, 1961. He was accused of crimes against humanity, war crimes, crimes against the Jewish people, and membership in a criminal organization.

He was found guilty of crimes against humanity, war crimes, crimes against Poles, Slovenes and Gypsies, and membership in three organizations deemed criminal at the Nuremberg trials. He was sentenced to death on December 15, 1961.