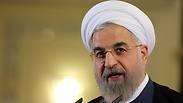 Iranian President Rouhani
Photo: AFP
As UN nuclear inspectors arrived in Tehran on Wednesday, Iranian President Hassan Rouhani said the Islamic Republic will not accept a comprehensive nuclear deal with major powers if all sanctions imposed on Tehran are not lifted.

"If there is no end to sanctions, there will not be an agreement," Rouhani said in a televised speech in the northern Iranian city of Rasht.

"The end of these negotiations and a signed deal must include a declaration of cancelling the oppressive sanctions on the great nation of Iran."

Iran wants sanctions that include nuclear-related United Nations resolutions as well as US and EU nuclear-related economic sanctions, to be lifted at once. The US says that sanctions against Iran would be removed gradually.

In what was seen as a setback for Barack Obama, the US president agreed on Tuesday that Congress should have the power to review any deal with Iran, backing down to pressure from Republicans and some in his own party.

The move blocks Obama's ability to waive many US sanctions on Tehran while Congress reviews the deal. It also allows Congress a final vote on whether to lift sanctions imposed by US lawmakers.

US Secretary of State John Kerry said on Wednesday he was confident Obama would be able to get Congress to approve a nuclear deal with Iran.

"Looming large is the challenge of finishing the negotiation with Iran over the course of the next two and a half months," Kerry said after arriving in Germany for a Group of Seven foreign ministers' meeting in the northern city of Luebeck.

"Yesterday there was a compromise reached in Washington regarding congressional input. We are confident about our ability for the president to negotiate an agreement and to do so with the ability to make the world safer," he added.

German Foreign Minister Frank-Walter Steinmeier said the G7 foreign ministers would discuss the Iran talks during their meeting in Luebeck, especially now that Kerry had arrived.

"(We'll deal with)... the result between the American administration and Congress, which has a certain influence on whether the final agreement with Iran can succeed by June 30 or not," Steinmeier said.

He said the foreign ministers would listen to Kerry's assessment of negotiations with Iran and how the prospect of congressional approval might affect them.

Rouhani said this was an internal issue for Washington.

"What the US Senate, Congress and others say is not our problem. We want mutual respect ... We are in talks with the major powers and not with the Congress," Rouhani said, adding that Iran wanted to end its isolation by having "constructive interaction with the world and not confrontation".

Iran says its nuclear program is peaceful, but it has never welcomed intrusive inspections and has in the past kept some nuclear sites secret.

A delegation from the International Atomic Energy Agency (IAEA), the United Nations' nuclear watchdog, arrived in Tehran on Wednesday for scheduled technical talks, surrounding a military site in Marivan, in western Iran, Iran's official IRNA news agency reported, quoting Iranian nuclear spokesman Behrouz Kamalvandi.

A 2011 IAEA report indicated that large-scale high-explosive experiments were conducted in Marivan, near the Iraqi border.

Talks with the IAEA are parallel to Iran's nuclear negotiations with the powers seeking a permanent agreement on curbing the country's nuclear activities by June 30.

Iran and major powers will resume talks on April 21.

The Associated Press contributed to this report.