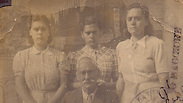 Dozens of black and white photos are scattered across the small dining table in a modest house in Rehovot. Some of the people looking into the camera are smiling, others have a melancholic look. One does not need to know the figures in the photos to sense a tragic story deeply hidden. But until now, there was no one to tell it.

Avraham and Peretz Hassid have been the owners of the photo collection since their mother Shoshana and aunt Nina passed away. But the people in the pictures remained a mystery.

Avraham is convinced that the little girl in one of images bears a resemblance to his mother. Perhaps the children by her side are her younger siblings, perhaps on one Purim on the Greek island of Corfu. The brothers Hassid had many questions that they never dared to ask. Their mother Shoshana had been through enough, they told themselves, and they had no desire to hurt her further.

Shoshana took her secrets with her to the grave. And neither brother imagined that they would one day receive a phone call that would turn their lives upside down.

"We have a story about your mother that you have to hear," said the person on the other end of the line. Their mother's life-long secret, her personal story, was about to be revealed - and she was not there to confirm or deny it. The secret of Ereikousa was about to come to light.
A story without an ending
The events of the Holocaust in Greece have always been studied in Israel through the framework of the destruction of the large and thriving Jewish community of Salonika.

The smaller yet equally flourishing community in Corfu, which numbered about 2,000 people before the war, was taken by rickety fishing boats to the trains bound for Auschwitz, and was also almost entirely destroyed. But there are few references to it in historical literature.

And if little has been written about Corfu, there is almost nothing about the nearby island of Ereikousa. A single article was published in Israel in 1977, describing the tiny island as a magical landscape, whose hundreds of residents run a remarkably unified community. "A markedly egalitarian society", the article says of the island.

"We have no police and no courts, the residents are responsible for their actions towards others," the article quotes one of the elderly residents as saying. "We all belong to one family, and we are all cousins."

The old man was not quite right. Perhaps he did not know what happened on the island in 1943, perhaps he knew and chose to remain silent, as did all of his neighbors over the years. In the seven decades that have passed, not one of the Christian people living on Ereikousa has spoken of the Jewish family of five who hid on the island during the Nazi occupation.

It was an act of concealment shared by all of Ereikousa's residents, who risked their lives and those of their families. And it is a legacy that passed from the original keepers of the secret to their children and grandchildren.

The unraveling of the secret started more than a year ago. Director and writer Yvette Manessis Corporon, an Emmy winner of Greek origin, published her book "When the Cypress Whispers," inspired by memories of her grandmother, a resident of Ereikousa.

The book recounts a key event in the life of Corporon's grandmother - the rescue of Jewish tailor Savas, who escaped from Corfu during the Holocaust. And although the book was well-received and won critical acclaim, Corporon believed that until she knew what had happened to the Jewish family, the story had no ending.

"My grandmother said Savas fled to Ereikousa with his three daughters and his granddaughter when the Nazis came to Corfu, and the islanders hid them," Corporon told Ynet.

"Every night, under cover of darkness, they would come out of hiding and come to my grandmother and she would welcome them with joy. The Nazis were conducting searches on another island to which Jews had fled, but despite explicit warnings that anyone hiding Jews would die along with all his family, no one revealed the secret. Everyone knew Savas and his daughters were hiding in the parsonage, but no one told."
A shocking discovery
Corporon decided to try to locate Savas' descendants, to find out what had happened to them. She never imagined the huge emotional rollercoaster to come, one that would span the globe.

She initially turned to the veterans of the island, some of whom remembered the Jewish tailor and his three daughters, Spera, Julia and Nina, and a little granddaughter named Rosa. Some thought that their surname was "Israel", but no one was sure, and no one knew what had happened to them.

Corporon then turned to the Yad Vashem Holocaust museum in Jerusalem, whose staff had helped survivors from Corfu, in order to locate Savas' descendants. One Corfu native said that the name rang a bell, while another even said he that Nina, Spera and Rosa were with him on the illegal immigration ship "Henrietta Szold" in 1946. The ship was captured by the British and its passengers were deported to Cyprus.

Staff at Yad Vashem managed to track down a few more isolated details. "Nina married a man whose surname was Levi, Spera married a man named Vittorio Moustaki and Rosa apparently also married, lived in Rehovot and had children, but we did not know their names," Corporon said. Julia did not have children, and died in Greece.

"It was a very frustrating time," says Coporon. "I received an email that read: 'Unfortunately, we have reached a dead end, let us know if you have more details.'

"But I had one name - Vittorio Moustaki. I went to the MyHeritage site (a specialist in researching family trees), which I knew has a giant database of over a billion names, and typed the name 'Vittorio Moustaki.' My coffee cup almost fell out of my hand when I got results."

Corporon found a large family tree that lists Vittorio Moustaki and some first names of his family of Israel. But the details did not correspond – the ages and relationships of the family did not match. She got in touch with the principal contact listed on the family tree, and within an hour received back a family photo. Yvette quickly checked the information with people who knew the tailor's family. The people in the picture were not the ones she was looking for.

Frustrated at the impasse, Corporon asked MyHeritage for help. "It's a needle in a haystack," she was told, "but we will do all we can to help."

The details of the mysterious story reached the website's founder, Gilad Japhet, a specialist in difficult family histories. He offered to help and was immediately sucked deeper into the story.

"There is little information here, some of it contradictory," Japhet wrote to his staff. "My chances of finding relevant information through the available data are unfortunately less than 0.1 percent."

But Japhet decided not to let it go. He plunged into a mountain of documents and rescued information, and began to study names. That same night, he found Nina. Excited by the discovery, he reported his findings.

"I am delighted to report that I did it," wrote Japhet. Of all the women in Israel called Nina, he had found one who arrived from Greece after the war, and who had the previous surname "Israel". Her father's name, as it appeared in the official recordings, was Savas, and her mother's name was Shoshana.

"Shoshana could also be called Rosa," Japhet wrote to his staff, "and there was a good chance that the granddaughter Rosa was named after her grandmother."

Japheth located Nina's grave at Kiryat Shaul cemetery, and on the headstone was written her father's name, Shabtai – the Hebrew version of the Greek name Savas. Buried by her side, Japhet discovered, was her husband Rahamim Levi.
Finding Savas
Japhet then turned his attention to Spera, assuming that if she had come to Israel, she could well have changed her first name. The name Spera, Japhet guessed, comes from the Spanish word Esperanza or hope; the Hebrew version, Tikva, was a common Israeli name.

Acting on this assumption, he went looking for all the women called Tikva who came to Israel from Greece after the Holocaust. The first name to jump out at him seemed promising. Tikva Levi, a resident of 21 Geula Street, Tel Aviv.

"This is the same street in which I found Nina," says Japhet. "I thought it wasn't a coincidence. I assumed two family members who survived the Holocaust and came to Israel probably wanted to live next to each other."

Japhet described his findings in a detailed email to Corporon. "Year of immigration to Israel - 46. It seems that was on the ship 'Henrietta Szold'. Father's name: Savas. Wow!. Mother's name: Rosa. I believe that this Tikva is the Spera we're looking for, because the pieces of the puzzle fit together so well. The chances of this being a coincidence are low."

With a little more detective work, Japhet located Tikva's granddaughter in the US, Michelle Mendelowitz, and told Corporon how to reach her. "She may lead us to Rosa's children in Rehovot," he wrote. "I am giving you the honor of contacting her and I look forward to hearing the outcome of the conversation."

"My head exploded and spun at the same time, "says Corporon. She wrote back to Japhet: "You solved the puzzle, they should save you a place in heaven."

Corporon contacted Mendelowitz in Los Angeles and told her the story. Mendelowitz told her in turn that Spera was her step-grandmother, who had married a second time to her grandfather, after she had gone through a bitter divorce with a man named Vittorio Moustaki. Mendelowitz and her mother knew Rosa (Shoshana), who had died just a few years earlier. She gave Corporon information about Rosa's family in Rehovot - Bnaya, Avraham and Peretz Hassid.
Meeting on the street
In April 2014, Peretz Hassid's phone rang. On the other end was Aaron Godfrey from MyHeritage.

"We have important information about your mother from the period of the Holocaust," Godfrey announced, and asked for a meeting.

The Hassid brothers, who were suspicious, agreed to meet with Godfrey and Japhet on the street outside their house. And soon they realized that the story they had been told was true.

"They knew everyone's name and the family connections between them," says Avraham. "They told us that our mother hid with three aunts, whom we had met, and with Savas, whom we knew nothing about, in a village in Ereikousa and that Christians hid them throughout the war. My mother's time in the Holocaust had been a black hole for us until that moment."

Among the pictures in the Hassid apartment, Japhet identified a photo of Savas. The MyHeritage researchers told the Hassids that their aunts were not their biological family but had formed an intimate connection with their mother as their fates became intertwined.

"The Germans invaded Corfu and began to round up the Jews," says Japhet. "We assume that Savas, who was a tailor and used to visit the neighboring island, fled there from Corfu with the help of friends, taking with him his daughters and a little girl called Rosa who had been left alone when her family was taken."

On June 6, 1944 a transport from Athens arrived at Auschwitz-Birkenau, carrying 2,044 Jews of Corfu. The German documents from Auschwitz place Shoshana's father, Peretz Belleli, at Buna-Monowitz, the forced labor camp next to Auschwitz. According to the records, he was murdered on March 9, 1945. Details of the rest of the family have not yet been found.

The Hassid brothers were finally learning their mother's history. And in a Skype call from the US, an emotional Corporon told them for the first time the story of the family's rescue on the island of Ereikousa.

"Suddenly we realized where it all began," says Peretz. "We were never allowed to ask our mother about the war. Occasionally we would hear her talking to our aunts in Greek, but we were not allowed to interrupt. It is very moving to think that an entire island was involved in the rescue and that we are here thanks to the people there."

Shoshana Hassid, it turns out, was married in the 1950s to Yaakov, an immigrant from Turkey. In 1964, just a few years after she rebuilt her life, her husband was killed in a work accident.

"At that moment, her life was over for the second time. She had seven years of relative happiness, that's all. After that she only wore black and knew no happiness," says Avraham.

"The world was cruel to Shoshana," says her friend Rina Mizan, herself an Auschwitz survivor from Corfu. "She did not have a moment's relief in life. She would occasionally come to my house, and we would be silent together."

The most dramatic moment of the meeting with Shoshana's sons occurred at its close. Sigalit Hassid, Shoshana's daughter-in-law, suddenly recalled that a few years earlier, her daughter Inbar had been investigating the family's roots.

Sigalit thought that perhaps her daughter's school project included something about the Holocaust, and rushed off to look for it. Shoshana, it turned out, did not tell her children anything, but could not refuse her granddaughter.

"The Germans came to the island of Corfu, where my grandmother lived," wrote Inbar. "They gathered up all the Jews in Corfu, including my grandmother's family, her parents and her brothers, and killed them all. My grandmother and three aunts were saved because they were hidden from the Germans by good gentiles who agreed to help."

All the information finally fell into place. The Ereikousa story was true.
A brother who survived
MyHeritage researchers began to map out all the information known to them, collecting all the documents in Greek left by Shoshana, all the pictures and all the contacts, and began looking for relevant documents from around the world.

After many conversations with Auschwitz survivors from Corfu, it emerged that Savas had another son, Solomoninio, who was more than likely killed by partisans who suspected him of collaborating with the Germans.

In the documents Shoshana submitted to Yad Vashem in 1999, she listed the names of just two of her six siblings – Menachem and Gabriel. MyHeritage staff contacted government officials in Greece and Israel, and they agreed to help.

A document in Greek found in Shoshana's apartment, with a birth certificate signed by a notary, led to the discovery of a file from the 1990s containing Shoshana's request for compensation, at the archives of the Ministry of Finance. The file also contains a testimony by Shoshana, in her own handwriting.

"In '43, the Germans came to Corfu and immediately began to round up all the Jews, but the Germans could not catch those who fled. I ran into the mountains and villages with the help of other people. After the Germans occupied the city, I wandered from place to place with no clothes and no food. I feared that the Germans would catch me."

The file states that Shoshana was the only one of her family who remained alive, and that she had been afraid her entire life that the Germans would return and take her too.

To obtain conclusive evidence about her family, MyHeritage staff explored every possible avenue, including the testimony by Shoshana, who had been just 9 when the Germans caught her family.

"My brother Gabriel Belleli, 15, was killed in Auschwitz," she wrote in her testimony at Yad Vashem. But international searches turned up an exciting fact: Gabriel Belleli, born in Corfu in 1930, is on the list of survivors of the Bergen-Belsen concentration camp. The last recorded date on which Belleli appears is September 1945, six months after the war ended. Could it be that Shoshana's older brother survived?

The information converges with the examination of documents at the City Hall in Corfu, and chances of this being the right person drastically increase. Gabriel Belleli, born in 1930, is the son of Peretz - the same name as Shoshana's father.

In 1955, Gabriel Belleli is removed from the population registry in Corfu, and is now listed as "Not in Existence."

"Now the task is to track down Gabriel Belleli," say the MyHeritage staff. "If he managed to survive, it is possible he never knew his sister Rosa survived the Holocaust and immigrated to Israel."

Yvette, Avraham and Peretz talk on Skype (צילום: MyHeritage)
Common fate
For Avraham and Peretz, this is startling information. Until recently, they knew nothing about their mother's history, and suddenly the family that they knew was no longer the same. They look at the picture of the three young children, and wonder whether one of them is Gabriel, and whether he survived.

"Seventy years after the Holocaust, suddenly everything is up in the air," says Avraham. "It pains me that my mother is no longer alive and I cannot talk to her about what happened there, as I now know what happened to her."

As the investigation continues, the story reaches the organization of Jewish communities in Greece, who decide to hold a special ceremony to honor the residents of Ereikousa for the rescue.

Corporon, who has found the end to her book, was suddenly hit by a fateful event. In April 2014, thousands of miles from Israel, a neo-Nazi opened fire at a Jewish community building in Kansas City, killing three people. The motive for the murder was anti-Semitic, but the dead were passers-by and Christians.

Two of the dead, 14-year-old Reat Underwood and his grandfather, Dr. William Corporon, were Yvette's relatives. "In one moment, at the height of the investigation, I became a victim of anti-Semitism myself," she tells Ynet. "My fate is now tied to the fate of Savas' family."

Savas' daughters, Nina and Julia, were married but neither had children. Julia remained in Greece, and was married and died in Athens, where she is buried in a Jewish cemetery. Nina died in Israel, as did Spera.

Now, the investigation is focused on trying to locate Gabriel Belleli and finding the burial place of Savas, who apparently died after the war and was reportedly buried by his daughters with their own hands. The trauma experienced by Savas' daughters during the Holocaust went with them to the grave.

Avraham and Peretz, the last surviving biological members of the family, will go to Ereikousa in June for a ceremony, during which Savas' old sewing machine will be placed in the parsonage where the family was hidden during the war.

Corporon is now working on a documentary of the full story.