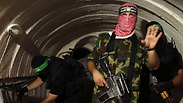 Hamas military brigade inside tunnel.
Photo: Reuters
A new tunnel detection system developed by Elbit Systems will protect Israeli citizens from the threat of infiltration by Hamas terrorists.

Now, after two months of development, the Israel-based international defense electronics company says that they have created an effective system which uses sensors to detect tunnel building activity. The system will be implemented along the entire Israel-Gaza border, Elbit said.

The system includes a series of sensors. The information they receive is analyzed using a control system based on algorithms. This method enables the precise identification of tunnel building and its location without false alarms.

The system is the first of its kind in the world and was developed in Israel in record time by the Director of Research and Development in the Defense Ministry in cooperation with Israeli industries.

Similar to the Iron Dome system developed by Rafael Advanced Security and Israel Aerospace Industries, the new tunnel-detecting system was developed as a response to a direct threat from Hamas – tunnels constructed from Gaza to Israeli territory, which were exposed during Operation Protective Edge.

They system has already been implemented on parts of the border but its wider implementation along the entire Gaza Strip will require approval by the security apparatus and an assigned budget.

Security officials updated regional council heads on the Gaza border on the technological advancement reached in the search for a solution to threats coming from Gaza.

Alon Shuster, head of the Sha'ar HaNegev Regional Council, said he has been closely following the massive efforts made by the Defense Ministry and the IDF in developing measures to locate tunnels.

"From what we know, these are the fruits of that labor. There is no doubt that the aggressive operations this past summer limited the threat in a significant way for Israel and this advancement gives an additional layer of security for the residents," he said.

Amit Caspi, from Kibbutz Kerem Shalom – a kibbutz that was directly threatened by Hamas tunnels – said: "The tunnel threat for us is a threat on the community's morale. Because of the nature of its danger, the surprise factor and the inability to defend oneself, it truly constitutes a personal threat. For us it registered as an insolvable threat so if there is a breakthrough here, even though we know that there is never 100 percent (certainty) on this matter, it could really improve personal security."

He added: "I have no doubt that this will improve the morale and lives of all the residents of the Gaza border community. I hope it will help to save lives and of course to improve our day-to-day routine here."