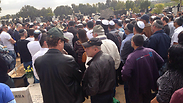 Hundreds at Benjamin Schlesinger's funeral
Photo: Ashdod Net
Some 500 people attended the funeral of Holocaust survivor Benjamin Schlesinger on Thursday, after his relatives posted on Facebook, concerned there would not be enough people to form a minyan (the quorum of ten Jewish adults required for certain religious obligations).
Schlesinger passed away on Wednesday, a day before the annual Holocaust Remembrance Day, at the age of 82. He had one son and very few of his family members are still living.
The funeral began at 9:30 am, and at 10 am, the participants stood during the 2-minute siren marking Holocaust Remembrance Day.
Olga Ohayon, a relative of Schlesinger, thanked those who attended the funeral. "It proved to us that all of Israel are responsible for one another and we'll stand together in any trouble.
"We mourn Benjamin's loss, but it must have been his time. There isn't a more dignified way to say goodbye to him.
"Hundreds of people came here, even security forces and policemen, not just from Ashdod, but from the entire country. They came and embraced us and it was emotional and heart-warming," Olga said.
Earlier this week, hundreds turned out to the funeral of childless Holocaust survivor 92-year-old Chaya Gertman, who lost her entire family and whose ordeal at Auschwitz left her unable to have children.