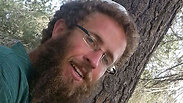 Shalom Yohai Sharki killed in the incident
Jerusalem Police said Thursday there is a growing suspicion that terrorism was behind a vehicular incident in Jerusalem on Wednesday night, which left one dead and another gravely wounded.
Shalom Yohai Cherki and Shira Klein were hit Wednesday night by Palestinian Khaled Kutina, 37 from 'Anata in East Jerusalem, while waiting at a bus stop at the French Hill junction in Jerusalem.
Kutina's remand was extended through Monday.
Attorney Nasser Massis, who is representing Kutina, denied accusations of terrorism. "My client denied all involvement in criminal activity other than the claim that this was a normal traffic accident that was not unreasonable given the circumstances," he said. "There was heavy rainfall and the defendant believes the court will ultimately release him."
Both victims were gravely wounded and Cherki succumbed to his wounds early Thursday morning, while Klein, in her early 20s, remains in serious condition.
Doctors at the Hadassah Medical Center in Jerusalem's Ein Karem said Klein was hospitalized at the intensive care unit in stable condition.
Klein's mother, Ada, said the family sends its condolences to the Cherki family and asks Israelis to pray for her daughter's full recovery.
Kutina, who was lightly hurt in the crash, was arrested and questioned by the Jerusalem Police and the Shin Bet.
"The interrogation and initial findings strengthen suspicion this was a terrorist incident," police spokesman Micky Rosenfeld said.
The attack took place on the opposite side of an intersection in East Jerusalem where last year a car slammed into commuters waiting at a tram stop, killing three people, including a baby. Its Palestinian driver was shot dead by police.
Along the same main route through the city last month, a Palestinian motorist rammed his vehicle into a group of people standing near a tram stop, injuring at least five. He was shot and wounded by police.
Reuters contributed to this report.