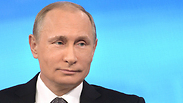 Russian President Putin
Photo: AFP
Russian President Vladimir Putin said on Thursday that Iran's willingness and flexibility in trying to find a solution with the West over its nuclear program had spurred his decision to lift a 2010 ban to deliver an S-300 missile defense system to Tehran, adding that the advanced Russian unit would not pose a threat to Israel.

But the president, in his annual televised call-in show, said Russia would still work "as one" with its partners in the United Nations over Iran and that deliveries of the S-300 would work as a deterrent in the Middle East.

"And now with the progress of the Iranian nuclear track – and that is obviously positive – we do not see any reason to continue to keep the ban (on the delivery of the S-300) unilaterally," he said.

He said Iran should be rewarded for showing "a great degree of flexibility and a desire to reach compromise" in the talks and stressed said the S-300 is a defensive weapon that shouldn't pose any threat to Israel, and may in fact serve as "a deterrent factor in connection with the situation in Yemen."

Putin said that Russia would continue to cooperate with its international partners on negotiating a definitive nuclear deal with Iran. He argued that the international sanctions against Iran still in place don't ban the delivery of the S-300, which Russia had halted voluntarily.

He argued that Russia remains open for overcoming the current tensions with the West, but warned Washington that it should stop treating Moscow as an inferior partner if it wants good ties.

"The main condition is to have respect for Russia and its interests," he said, adding that the United States "doesn't need allies, they need vassals."

Putin said that despite the frictions with the West, "we don't see anyone as enemy," adding that "we don't recommend anyone to see us as enemy."

The president focused heavily on economic issues during the show, a slickly produced hours-long annual affair intended to burnish his image.

He said the nation's economic performance has remained strong, despite Western sanctions slapped on Russia over the Ukrainian crisis and a slump in global oil prices. He pointed at the ruble's recovery as a sign of a renewed investor confidence in Russia.

Putin, whose approval ratings top 80 percent despite the recession, said the country can overcome any challenges if it remains united.

"If we preserve a stable situation in domestic politics, preserve the current consolidation of society, we shouldn't fear any threats," he said.

Official estimates are that Russia's economy will shrink by 3 to 5 percent this year in its steepest decline since Putin took office 15 years ago, but Putin said the slump would likely be less significant.

He also criticized Ukraine, accusing it of violating its obligations under February's peace deal by maintaining an economic blockade on rebellious eastern regions, refusing to deliver pensions and other social payments to people in the east, and shutting financial services to the region.

Putin argued that the Ukrainian leadership is effectively cutting off the eastern regions from the rest of the country. At the same time, the Russian president insisted that he remains committed to cooperating with the Ukrainian president to overcome the crisis, adding that the Minsk agreement signed in February provides the only way out of it.

He reaffirmed a strong denial of Ukrainian and Western claims that Russia has sent troops to back the rebels in eastern Ukraine.

"There are no Russian troops in Ukraine," he said.

When a jittery resident of areas in southwestern Russia near the border with Ukraine asked him if they should fear a war, Putin answered with a categoric 'no.' "You live in calm," he said.

Asked about the killing of Nemtsov, who was shot dead just outside the Kremlin on Feb. 27, Putin praised Russian law-enforcement agencies for nabbing the suspected perpetrators, but said he doesn't know if it will be possible to track down the mastermind.

The five suspects, all Chechens, have remained in custody. Observers say their arrest has highlighted tensions between Russian law-enforcement agencies and Chechnya's Kremlin-backed strongman, Ramzan Kadyrov.

Reuters and the Associated Press contributed to this report.